classic apple crumble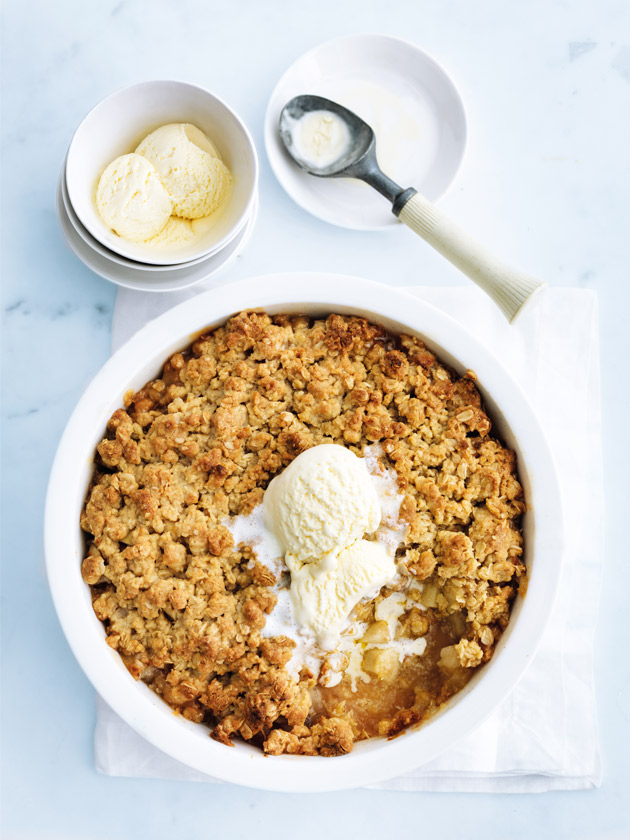 5 medium Granny Smith (green) apples (900g), peeled, cored and cut into 2cm dice

½ cup (110g) caster (superfine) sugar

2 tablespoons lemon juice

½ teaspoon ground cinnamon

store-bought vanilla ice-cream, to serve

crumble topping
1½ cups (225g) plain (all-purpose) flour

¾ cup (165g) caster (superfine) sugar

1 teaspoon ground cinnamon

1 cup (90g) rolled oats

225g unsalted butter, melted

Preheat oven to 180°C (350°F). Place the apple, sugar, lemon juice and cinnamon in a large bowl and mix to combine. Transfer to a 1.5-litre-capacity ovenproof dish.
To make the crumble topping, place the flour, sugar, cinnamon, oats and butter in a large bowl and mix until just combined.
Spoon the crumble mixture over the apple and place the dish on a large baking tray. Bake for 40–45 minutes, or until the crumble is golden and the apples are soft. Serve with vanilla ice-cream. Serves 6.

Johanna Toms
I doubled this recipe for friends and I put in less butter in the crumble, it turned out perfectly!
Kirsty Griffiths
Just made it for dessert - turned out perfect and very satisfying
Barbara Reinhartz
My niece made it yesterday. It was delicious!
Susanna Grilli
Delicious! One of the nicest apple crumbles I have made. I felt that there was too much sugar in both the apple and the crumble however. Next time I will add only 2 tablespoons of sugar to the apples and 1/4 less sugar to the crumble.
Josephine Vandezande
This is a fabulous recipe, normally I wouldn't comment on recipes but this one is amazing. You need to keep the lemon juice in there other wise it's way too sweet. It gives an acidic flavour that really brings this dessert together. TRY IT OUT NOW. Ha Ha.
Christina Williamson
I made this with gluten free flour and it was amazing. Great recipe!
Naomi Galloway
It was really delicious however I think the recipe calls for way too much butter in the crumble. I had a thick layer of butter around the edges and it didn't crumble/cook properly, I only had a crumbly crust on top
Deepthakshi Denagama
This is a super easy recipe. Yet it was delicious. Next time I will reduce a bit more sugar. My whole family loved it. Thank you.
Marita Mathews
Absolutely delicious ! I added blueberries as well & brown sugar suggested by the previous comment. I wanted to give this recipe 5 stars , but it didn't work . So my rating is definitely 5 ! So easy
Natalie Fawcett
Excellent easy recipe, we used brown sugar to replace the castor sugar and this gave it a nice caramel taste…