burnt butter and salted maple sticky buns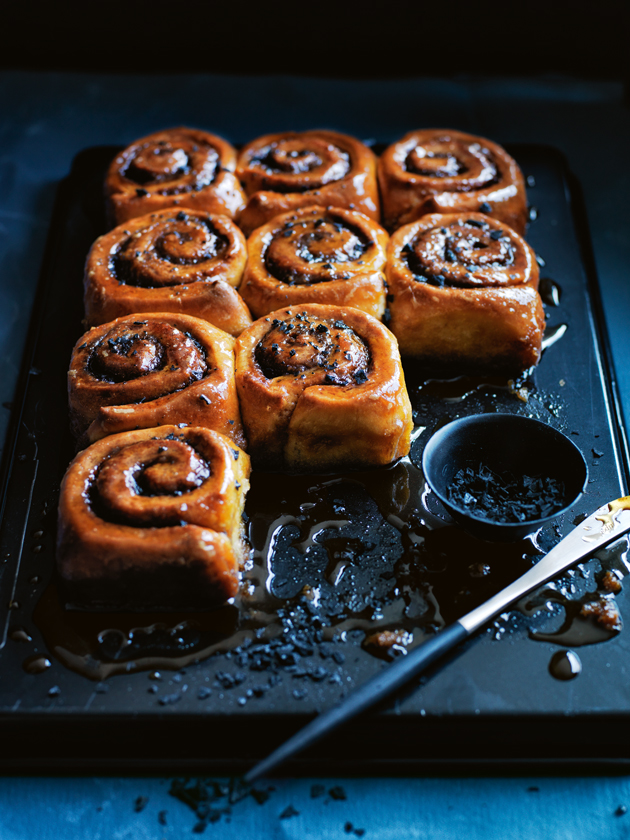 1¼ teaspoons dry yeast

⅔ cup (160ml) milk, lukewarm

2½ tablespoons maple syrup

3¼ cups (485g) plain (all-purpose) flour

¼ teaspoon table salt

2 eggs, lightly beaten

125g unsalted butter, melted

1 tablespoon black sea salt flakes+

maple glaze
⅔ cup (160ml) maple syrup

⅔ cup (110g) brown sugar

150g unsalted butter, chopped

burnt butter filling
125g salted butter, chopped

¾ cup (130g) brown sugar

2 teaspoons ground allspice

Place the yeast, milk and 1 teaspoon of the maple syrup in a small bowl and mix to combine. Set aside in a warm place for 5 minutes or until the surface is foamy.
Place the flour, salt, egg, butter, the remaining maple syrup and the yeast mixture in the bowl of an electric mixer with a dough hook attached. Beat on low speed for 5 minutes or until the dough is smooth and elastic. Place in a lightly greased bowl, cover with a damp tea towel and set aside in a warm place for 1 hour or until the dough has doubled in size.
While the dough is rising, make the maple glaze. Place the maple syrup, sugar and butter in a small saucepan over low heat and cook, stirring, until the butter is melted and the sugar is dissolved. Pour half the glaze into a 20cm x 30cm slice tin, reserving the remaining glaze, and set aside.
To make the burnt butter filling, place the butter in a small frying pan over high heat, stirring until the butter is melted. Bring to the boil and cook for 2–3 minutes or until nutty brown in colour. Transfer to a medium bowl and add the sugar and allspice. Mix to combine and set aside.
Roll out the dough on a floured surface to make a 60cm x 25cm rectangle. Spread with the burnt butter filling, leaving a 1cm border. Starting from one long side, roll up the dough tightly to enclose the filling. Trim the edges of the scroll and slice into 12 equal pieces. Arrange the buns in the tin on top of the glaze. Cover with a damp tea towel and set aside for 45–60 minutes or until doubled in size.
Preheat oven to 180°C (350°F). Bake the buns for 25–30 minutes or until golden brown and cooked through. Gently warm the remaining glaze over low heat. Pour over the buns and sprinkle with the salt to serve. Makes 12.

+ Black sea salt flakes are available from delicatessens and spice shops.
Jody Chalmers
These are really delicious! Light and fluffy with the best filling. I made these the night before and left them to do their second proof in the fridge overnight. Ready for guests in the morning for breakfast. Perfect!