cheat's chocolate fondant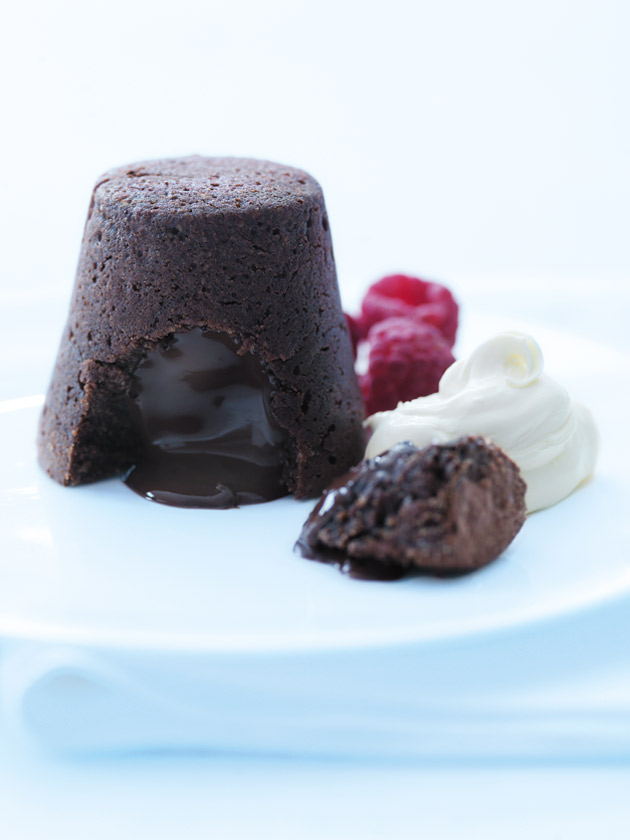 ¼ cup (50g) plain (all-purpose) flour, sifted

½ cup (55g) icing (confectioner's) sugar, sifted

¾ cup (90g) almond meal (ground almonds)

2 eggwhites

100g butter, melted

160g dark chocolate, melted

4 small squares dark chocolate, extra

Preheat oven to 150°C (300°F). Place the flour, sugar, almond meal, eggwhites, butter and melted chocolate in a bowl and mix well to combine.

Spoon half the mixture into 4 x ½ cup capacity (125ml) lightly greased dariole moulds.

Divide the extra chocolate squares between the moulds and top with the remaining mixture. Bake for 20–25 minutes or until cooked but soft in the middle.

Stand in tins for 5–7 minutes before turning out. Serves 4.

Susanna Grilli
I used 1/3 cup caster sugar instead of icing sugar and that new Cadbury chocolate (dark and milk combined). I also forgot to add a square of chocolate in each fondant but it still turned out beautifully. Next time I won't add any sugar at all as the Cadbury chocolate was sweet enough. My husband is very fussy with desserts but he absolutely loved this. I know how to make the classic fondant using 8 eggs but this is much more cost and time efficient with similar results. One thing I noticed however was the texture was between that of a friand and a fondant. Perfect with icecream or cream. Thanks Donna Hay.
RELATED VIDEO