chocolate self-saucing pudding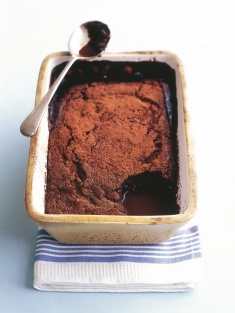 ¾ cup (185g) plain (all-purpose) flour

¼ cup (25g) hazelnut meal (ground hazelnuts)

½ cup (90g) brown sugar

3 teaspoons baking powder

⅓ cup (35g) cocoa powder

1 cup (250ml) milk

70g butter, melted

2 eggs, lightly beaten

1 teaspoon vanilla extract

cocoa powder, extra, for dusting

sauce
1 cup (175g) brown sugar

3 tablespoons cocoa powder

2 cups (500ml) boiling water

Preheat oven to 180ºC (355ºF). Sift the flour, hazelnut meal, sugar, baking powder and cocoa into a large bowl. Add the milk, butter, egg and vanilla and mix well to combine.
Pour the mixture into a lightly greased 17cm x 8cm ceramic ovenproof dish.
To make the sauce, combine the sugar and cocoa in a small bowl and sprinkle over the pudding mixture.
Pour the boiling water over the pudding and bake for 30 minutes or until the top is firm. Dust with the extra cocoa to serve. Serves 6.

There are no comments for this entry yet.