classic pavlova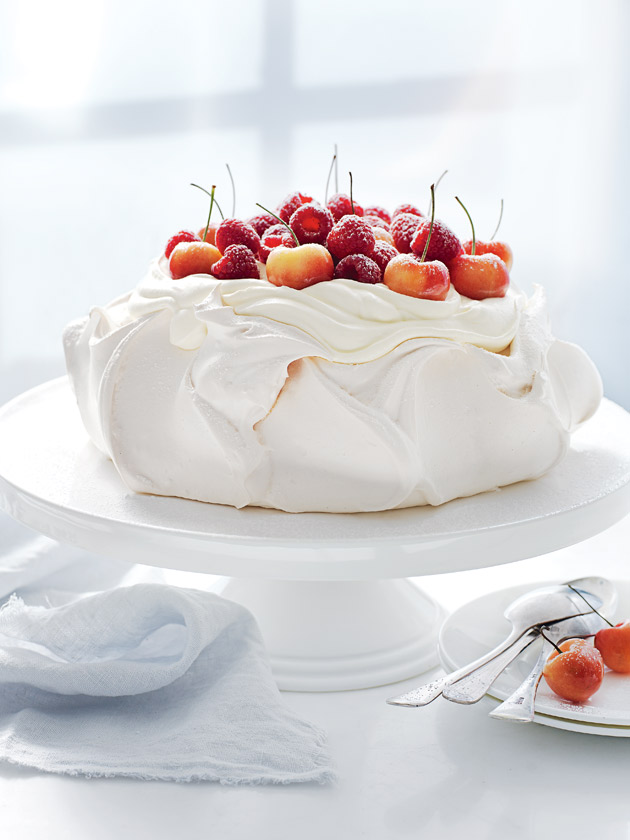 225ml eggwhites (approximately 6 x 60g eggs)

1½ cups (330g) caster (superfine) sugar

1½ teaspoons white vinegar

1½ cups (375ml) single (pouring) cream

1 cup (125g) fresh raspberries

1⅔ cups (250g) white cherries, stems intact

icing (confectioner's) sugar, for dusting

Preheat oven to 150°C (300°F). Place the eggwhite in the bowl of an electric mixer and whisk on high speed until stiff peaks form.

Gradually add the sugar, 1 tablespoon at a time, waiting 30 seconds between each addition. Once all the sugar has been added, scrape down the sides of the bowl with a spatula and whisk for a further 6 minutes or until the mixture is stiff and glossy.

Add the vinegar and whisk for 4 minutes or until glossy and combined.

Pile spoonfuls of the meringue onto a baking tray lined with non-stick baking paper and, using a spatula, shape to form a 20cm mound. Reduce the oven temperature to 120°C (250°F) and bake for 1 hour 30 minutes or until dry and crisp to the touch.

Turn the oven off and allow the pavlova to cool completely in the oven. Place the cream in a bowl and whisk until soft peaks form.

Place the pavlova on a cake stand or plate and top with the cream, raspberries and cherries. Dust with icing sugar to serve. Serves 10.

donna hay team
Hi Gwenda, we test all of our recipes in a fan forced oven. You can check if your oven is cooking evenly or is running hot with an oven thermometer. We suggest you follow the cooking times and temperature to make sure your pavlova is cooked. Also, we always use room temperature eggs. The DH team
Gwenda Jeanneret
I have a fan forced oven which browns the pavlova too much even on the lowest setting. If I switch off the fan force and set the oven to 100 degrees, it still browns too much and is raw in the centre at the end of the cooking time. What is the lowest temp at which the egg whites will cook?