flourless chocolate fudge layer cake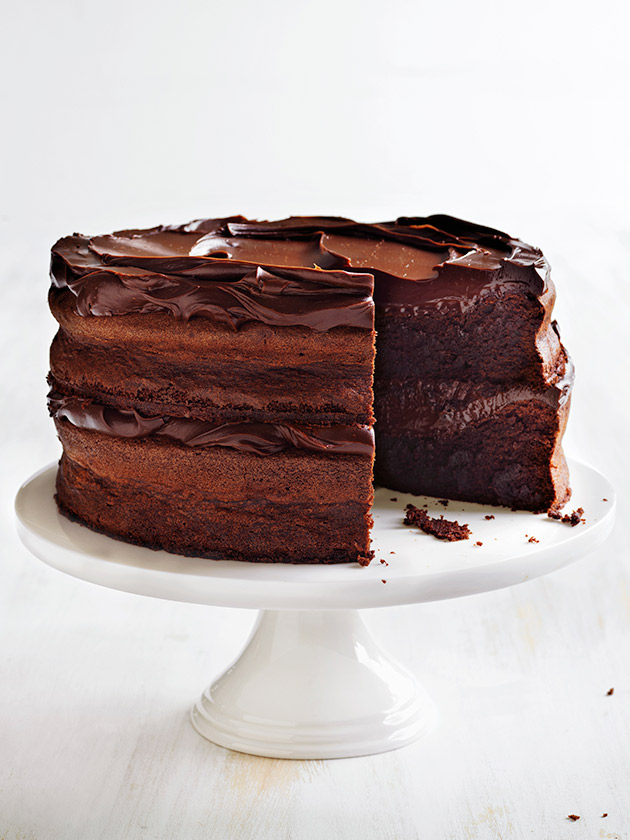 2 cartons Flourless Chocolate Fudge Cake

370g unsalted butter, chopped

8 eggs
chocolate ganache
600g dark chocolate, finely chopped

2 cups (500ml) single (pouring) cream
each carton contains:
chocolate chunks

cake mix

Preheat oven to 160C (325°F). Place the chocolate chunks and butter in a small saucepan over low heat and stir until smooth. Place the chocolate mixture in a large bowl and set aside to cool slightly. Add the eggs to the chocolate mixture and, using an electric mixer, whisk on medium speed for 5 minutes or until light and fluffy. Pour over the cake mix and, using a spatula, mix until combined. Divide the mixture between 2 lightly greased 20cm round springform cake tins lined with non-stick baking paper. Bake for 40–45 minutes or until just set. Set aside to cool in the tin.

While the cakes are cooling, place the chocolate in a large bowl. Place the cream in a medium saucepan over medium heat and bring to a simmer. Pour the cream over the chocolate and set aside, without touching it, for 5 minutes. Mix until smooth and set aside, stirring occasionally, for 30 minutes or until cooled and thickened.

Remove the cakes from the tin. Place 1 cake on a cake stand or cooling rack and top with half of the chocolate ganache. Top with the second cake and remaining ganache. Refrigerate for 10 minutes to set. Serve. Serves 16–18.
There are no comments for this entry yet.