salted caramel crunch ice-creams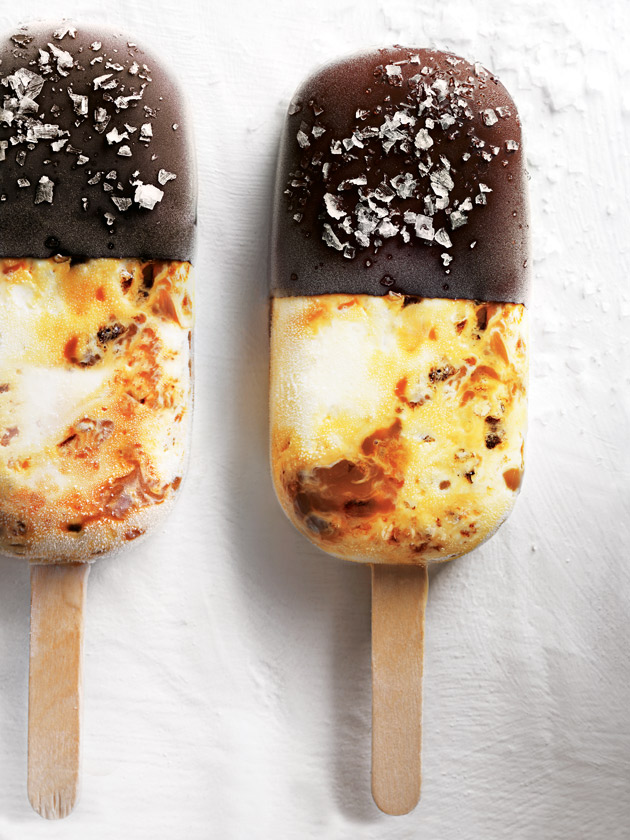 ¼ cup (55g) caster (superfine) sugar

¼ cup (6g) puffed rice

2½ cups (440g) store-bought vanilla ice-cream, roughly chopped

⅓ cup (100g) dulce de leche or thick caramel

200g 70% dark chocolate, melted

1 tablespoon vegetable oil

sea salt flakes, for sprinkling

Place the sugar in a small saucepan over medium heat. Cook for 12–14 minutes or until deep golden in colour, swirling the pan occasionally. Working quickly, fold through the puffed rice and pour onto a baking tray lined with non-stick baking paper. Allow to cool completely. Finely chop and set aside.

Place the ice-cream in the bowl of an electric mixer and beat on low speed until softened. Add the dulce de leche and the chopped puffed rice crunch, and gently fold to swirl through. Spoon into 6 x ⅓-cup-capacity (80ml) popsicle moulds, insert popsicle sticks and freeze for 8 hours or overnight. Run the moulds under hot water for 10 seconds to remove, then place popsicles on a large baking tray lined with non-stick baking paper. Freeze until needed.

Place the chocolate and oil in a medium bowl and mix until smooth. Set aside until the mixture comes to room temperature. Working quickly, dip the popsicles halfway into the chocolate and place on the baking tray. Sprinkle immediately with salt. Serve immediately or freeze until ready to serve. Makes 6.

donna hay team
Hi Jenny, yes you could use Rice Bubbles however they do have some added sugar. You should be able to locate bags of puffed rice in the health food aisle of your supermarket. The DH team
Jenny Wilson
Puffed rice? Do you mean rice bubbles or similar?
donna hay team
Hi Rachel, the popsicle moulds will be available in our online store very soon! The DH team.
Rachel Bowie
Yum! Where do you get the popsicle moulds?