pandan key lime icebox pie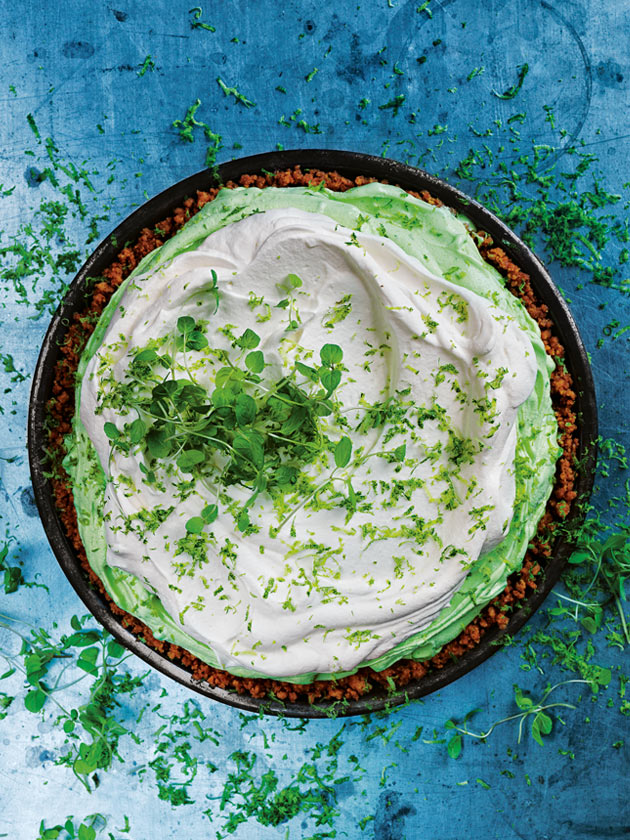 250g ginger nut biscuits, crushed100g unsalted butter, chopped and melted

2 litres store-bought vanilla ice-cream,chopped

few drops green food colouring (optional)

1 tablespoon finely grated lime rind, plus extra to serve

2 cups (500ml) single (pouring) cream

10 pandan leaves+, bruised and cut into 5cm lengths

¼ cup (40g) icing (superfine) sugar

micro (baby) mint leaves, to serve

Place the biscuits and butter in a food processor and process until the mixture resembles breadcrumbs. Press into a lightly greased 18cm 4-cup-capacity (1 litre) pie tin and freeze for 15 minutes or until firm.

Place the ice-cream in the bowl of an electric mixer and beat on low speed for 1–2 minutes or until softened. Add the food colouring, if desired, and lime rind and beat until combined. Spoon over the base and freeze for 6 hours or until frozen.

Place the cream and pandan in a small saucepan over medium heat and bring to a simmer. Reduce heat to low and cook for 10 minutes. Remove from heat and refrigerate until cold.

Strain the cream, discarding solids, and place in the bowl of an electric mixer. Add the sugar and whisk until soft peaks form. Spoon over the pie and top with extra lime rind. Freeze for 30 minutes or until firm. Sprinkle with mint to serve. Serves 8.
+ Pandan leaves are available from Asian grocers.
There are no comments for this entry yet.