raspberry and ginger ice-cream cheesecakes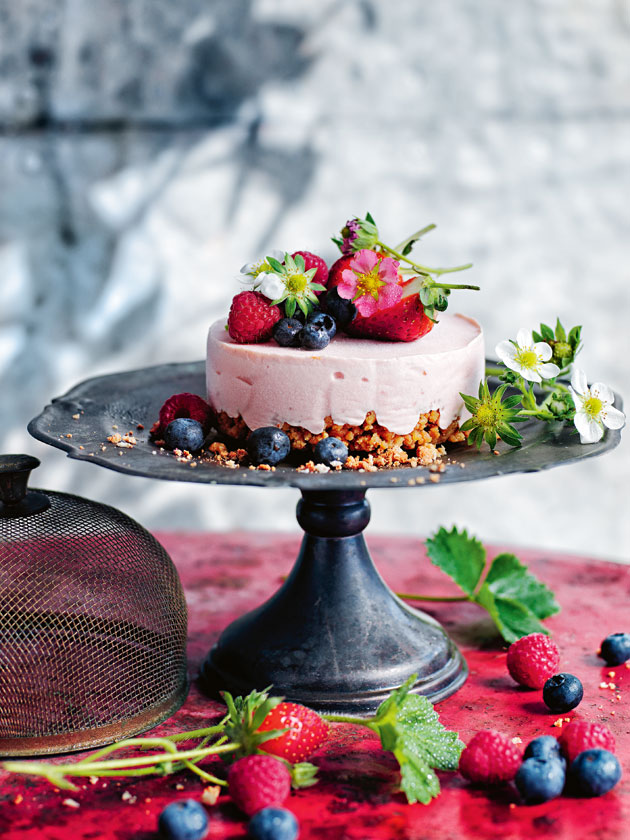 160g gingernut biscuits

2 tablespoons almond meal (ground almonds)

65g unsalted butter, melted

cheesecake filling
125g fresh or frozen raspberries

2 tablespoons caster (superfine) sugar

250g spreadable cream cheese, softened

500ml vanilla ice-cream

mixed fresh berries, to serve

Lightly grease 4 x 10cm round (1½-cup-capacity) springform cake tins and line with non-stick baking paper.
Place the biscuits and almond meal in a food processor and process until coarsely chopped. Add the butter and process until just combined. Divide the mixture between and lightly press into the prepared tins. Freeze for 15 minutes or until firm.
While the bases are in the freezer, make the cheesecake filling. Place the raspberries and sugar in a medium non-stick frying pan over high heat. Cook, stirring, for 2–3 minutes or until the berries have softened. Transfer to a bowl and refrigerate until cold.
Place the cream cheese and raspberry mixture in a food processor and process until smooth. Add the ice-cream and process until smooth. Working quickly, remove the bases from the freezer, spoon cheesecake filling into each, smooth the tops and return to the freezer for 1–2 hours or until firm. Remove the tins and top cakes with the mixed fresh berries to serve (see tip). Serves 4.

Tip: We used small flowers from the strawberry plants to decorate. Ensure you choose pesticide-free flowers and remove them before eating.
There are no comments for this entry yet.