star wreath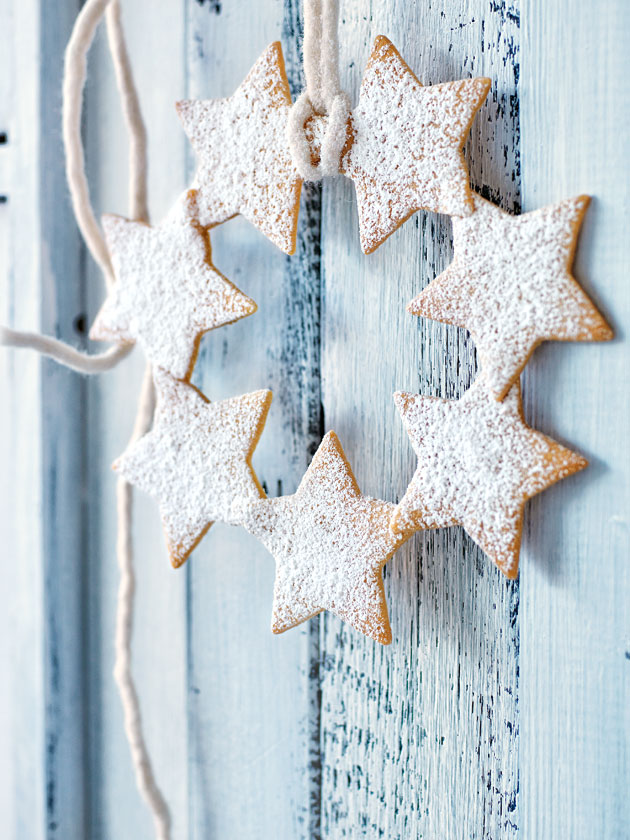 125g unsalted butter, softened
½ cup (90g) brown sugar
⅔ cup (230g) golden syrup
2½ cups (375g) plain (all-purpose) flour, sifted
1 teaspoon bicarbonate of (baking) soda, sifted
2 teaspoons ground ginger
1 teaspoon mixed spice
icing (confectioner's) sugar, for dusting

Place the butter and sugar in the bowl of an electric mixer and beat for 6–8 minutes, scraping down the sides of the bowl, until pale and creamy. Add the golden syrup, flour, bicarbonate of soda, ginger and mixed spice and beat until the mixture just comes together to form a smooth dough.
Roll the dough out between two sheets of non-stick baking paper to 3mm thick. Refrigerate for 30 minutes or until firm. Preheat oven to 140°C (275°F).
Using an 8cm star cutter, cut 28 stars from the dough, re-rolling as necessary. Line two large lightly greased baking trays with non-stick baking paper.
Trace two 14cm rounds onto each tray and arrange 7 stars around each circle, tips overlapping. Bake for 20–25 minutes or until golden. Allow to cool on the trays completely.
Dust with icing sugar and tie with twine or ribbon to hang. Store in an airtight container for 2–3 days and hang on Christmas Eve. Makes 4.

There are no comments for this entry yet.