poached chicken, celery and leek soup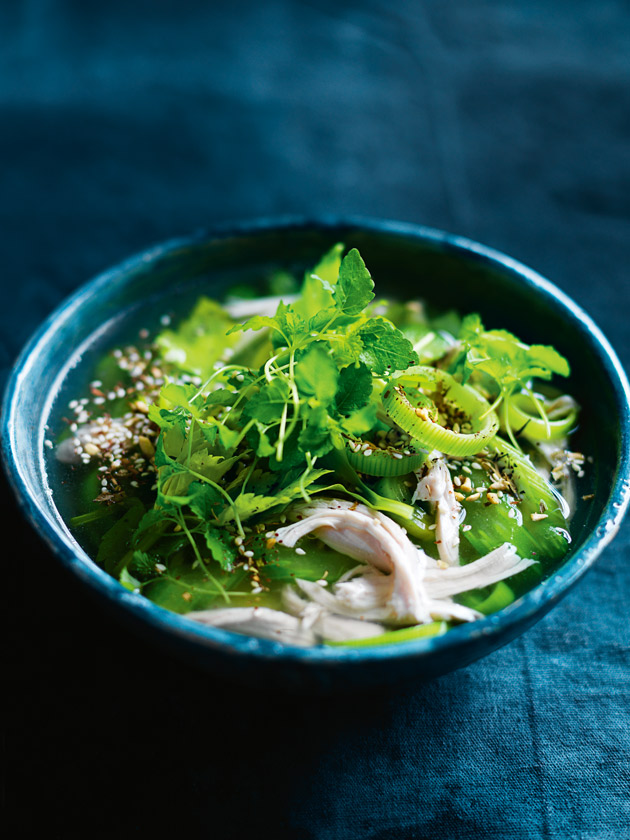 1 x 1.6kg chicken

3 litres cold water

1 sprig rosemary

1 onion, peeled and quartered

1 bulb garlic, halved

2 bay leaves

½ teaspoon black peppercorns

2 leeks, trimmed and thinly sliced

6 stalks celery, thinly sliced

2 teaspoons sea salt flakes

2 tablespoons store-bought dukkah

micro (baby) lemon balm leaves (optional), to serve

Place the chicken, water, rosemary, onion, garlic, bay leaves and peppercorns in a large saucepan over high heat. Bring to the boil, reduce heat to low and cook for 30 minutes or until the chicken is cooked through. Remove the chicken, reserving the stock, and allow to cool slightly. Using 2 forks, shred the meat and set aside, discarding the skin and bones. Strain the reserved stock.

Place 2.5 litres of the strained stock in a large saucepan over high heat and bring to the boil. Add the leek, celery, salt and shredded chicken and cook for 4–5 minutes or until the leek is softened. Divide the soup between bowls, sprinkle with dukkah and top with lemon balm leaves, if using, to serve. Serves 4–6.
TIP: Any remaining stock can be kept frozen in an airtight container for up to six months.
There are no comments for this entry yet.