banana and coconut
three-milk cake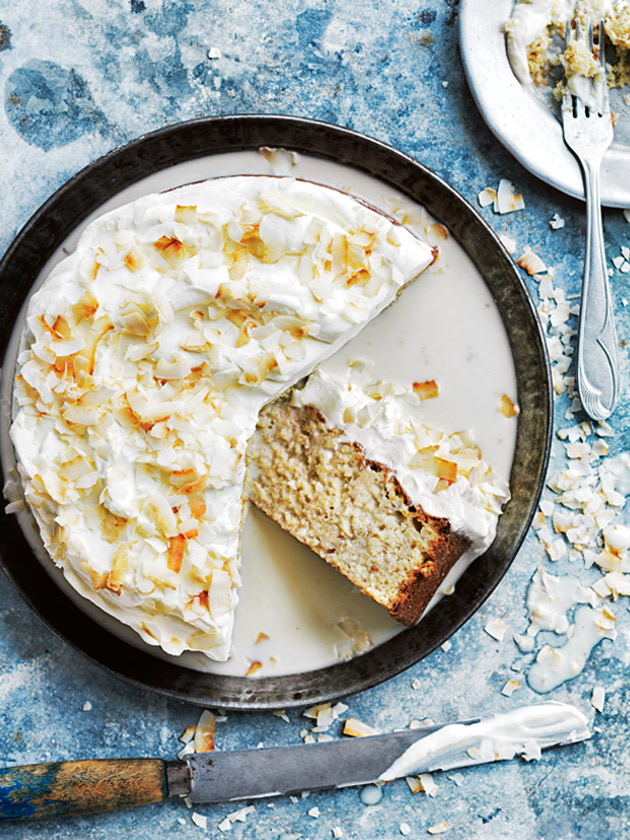 180g unsalted butter, softened

1 cup (220g) caster (superfine) sugar

2 teaspoons vanilla extract

5 eggs

1 cup mashed ripe banana (approximately 3 small bananas)

1½ cups (225g) self-raising (self-rising) flour

1 cup (250ml) coconut milk

1 cup (250ml) milk

395g can condensed milk

2 cups (500ml) single (pouring) cream

½ cup (25g) coconut flakes, toasted

Preheat oven to 160°C (325°F). Place the butter, sugar and vanilla in the bowl of an electric mixer and beat for 6–8 minutes or until pale and creamy. Scrape down the sides of the bowl.

Add the eggs, one at a time, beating well after each addition. Add the banana and flour and beat on low speed until just combined.

Spoon the mixture into a lightly greased 22cm springform cake tin lined with non-stick baking paper and cook for 45–50 minutes or until cooked when tested with a skewer. Cool completely in the tin.

Using a skewer, make holes all over the top of the cake. Place the milks in a large jug and whisk well to combine. Place the cake tin on a baking tray to catch any leaks, and gradually pour the milk mixture all over the cake. Refrigerate for 2–3 hours or until the milk mixture has been absorbed.

Remove the cake from the tin and place on a plate. Place the cream in a bowl of an electric mixer and whisk until soft peaks form. Top the cake with the cream and sprinkle with the coconut flakes to serve. Serves 8.

donna hay team
Hi Siri, the condensed milk does need to be sweetened. The DH Team.
Siri Rattana-Ngam
The condensed milk doesn't have to be sweetened, or does it?
Pippa Lin
I Loved this cake. It was moist and delicious. A perfect dessert.
Carla Moore
Accidentally rated this 3 star, meant to go 5.! ( fat fingers) Loved this cake. It looked beautiful, dinner guests loved it. Added some milk choc chips that dropped to the bottom and mixed nicely with the condensed milk. A new favourite
Liz Winterbottom
I was so looking forward to making this cake (and eating it) but have to say was so disappointed. The milk mixture tasted heavenly but did not seem to impart any of its flavour or creaminess to the cake? Also cake was very dense and heavy. It ended up being a very ordinary banana cake. Such a shame.