basic tarte tatin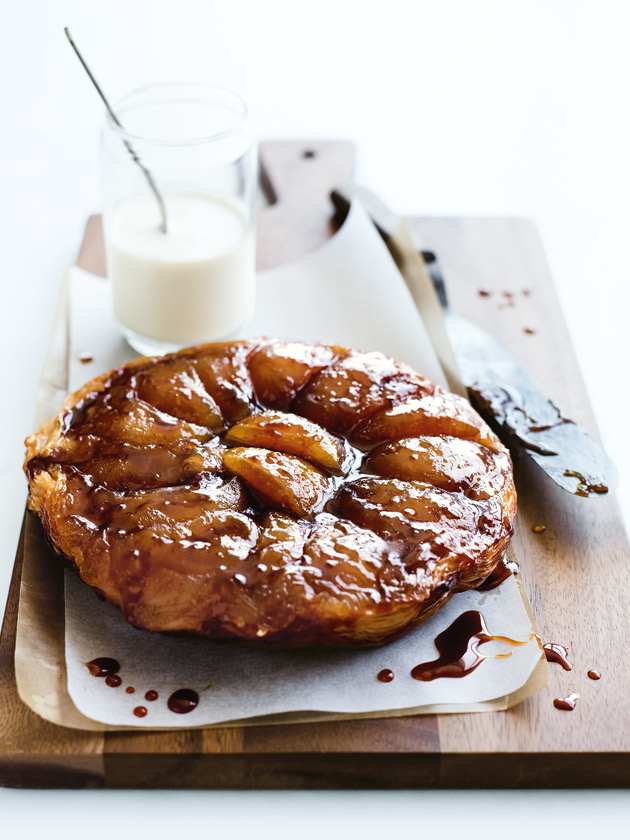 2 x sheets puff pastry, thawed
¾ cup (165g) caster (superfine) sugar
¼ cup (60ml) water
50g unsalted butter, chopped
4 Granny Smith (green) apples, peeled, cored and quartered
single (pouring) cream, to serve

Preheat oven to 190ºC (375ºF). Place the pastry sheets on top of one another and press gently to join, creating one 5mm-thick piece of pastry. Using a plate as a guide, cut a 23cm round from the pastry and set aside.
Place the sugar and water in a 20cm-round non-stick ovenproof frying pan over low heat and cook, stirring, until the sugar is dissolved. Increase the heat to medium and bring to the boil. Cook, without stirring, for 7–9 minutes or until light golden.
Carefully add the butter and stir until melted and well combined. Remove the pan from the heat and carefully arrange the apple, cut-side up and slightly overlapping, in the caramel. Top the apple with the pastry round and fold the edges under to tuck in the apples.
Using a sharp knife, make 3 small cuts in the centre of the pastry. Place the pan on a baking tray+ and bake for 35–40 minutes or until the pastry is puffed and golden. Allow to stand for 2–3 minutes. Loosen the edges with a knife. Carefully turn out the tart to serve. Serve warm with cream. Serves 4.

Angie Taras
This worked out well—I added some pouring cream to the caramel and some vanilla paste and it was delicious!