buttermilk fried chicken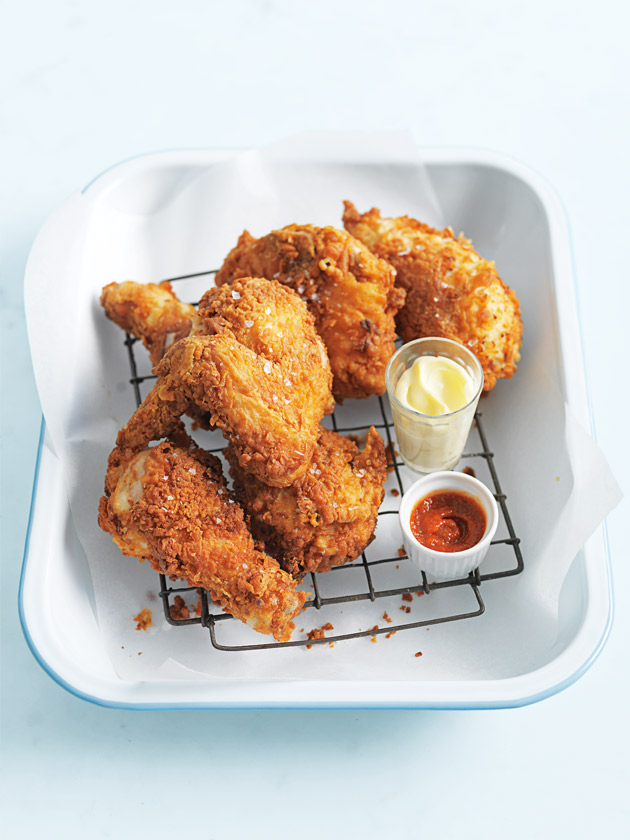 1 x 1.8kg chicken, rinsed and patted dry

600ml buttermilk

vegetable oil, for deep-frying

2 cups (300g) plain flour

2 teaspoons smoked paprika

1 teaspoon ground cumin

1 tablespoon baking powder

2 teaspoons sea salt flakes

½ teaspoon cracked black pepper

whole-egg mayonnaise and store-bought chilli sauce, to serve

To joint the chicken, place breast-side up on a board and cut around the legs with a sharp knife. Pull the leg away from the body, exposing the bone and cut the leg off. Cut the thigh from the drumstick at the joint. Use kitchen scissors and cut the chicken in half along the breastbone. Turn over and cut out the backbone. Cut the wing from the breast at the joint.

Place the chicken and buttermilk in a large bowl, toss to coat and refrigerate for 30 minutes to marinate.

Fill a large saucepan two-thirds full with oil and place over medium heat until the temperature reaches 180°C on a deep-frying thermometer.

Place the flour, paprika, cumin, baking powder, salt and pepper on a large tray and mix to combine. Place the marinated chicken, draining off any excess liquid in the flour mixture, in batches, and press to coat. Cook the chicken, in batches, for 6–8 minutes or until golden and cooked through.

Drain on paper towel and keep warm while cooking the remaining chicken (see tips + tricks). Serve with mayonnaise and chilli sauce. Serves 4–6.
+ To keep the chicken warm, place on an oven tray and place in a preheated 160°C oven.
+ Serve the fried chicken with a fresh cabbage or fennel slaw.
There are no comments for this entry yet.