chocolate-dusted pavlovas
with raspberries and pistachio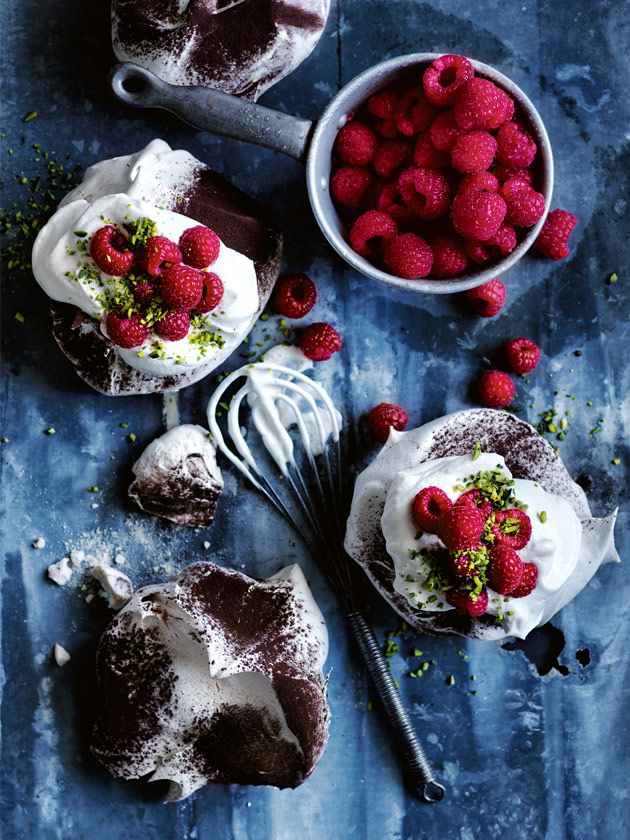 150ml eggwhites (approximately 4 eggwhites), at room temperature

1 cup (220g) caster (superfine) sugar

1 teaspoon white vinegar

1 teaspoon Dutch cocoa powder

1½ cups (375ml) single (pouring) cream

¼ cup (40g) icing (confectioner's) sugar, sifted

250g raspberries

2 tablespoons slivered pistachios

Preheat oven to 150°C (300°F). Place the eggwhites in the bowl of an electric mixer and whisk on high speed until stiff peaks form.
Gradually add the caster sugar, 1 tablespoon at a time, waiting 30 seconds between each addition. Once all the sugar has been added, scrape down the sides of the bowl with a spatula and whisk for a further 6 minutes or until the mixture is stiff and glossy. Add the vinegar and whisk for 4 minutes or until glossy and combined.
Place 6 large spoonfuls of the mixture on a large, lightly greased baking tray lined with non-stick baking paper. Dust with the cocoa powder and bake for 50 minutes. Turn the oven off and leave the meringues in the oven to cool completely.
Place the cream and icing sugar in the bowl of an electric mixer and whisk until soft peaks form. Top the meringues with the cream mixture, raspberries and pistachios to serve. Makes 6.
There are no comments for this entry yet.