magic mushroom cake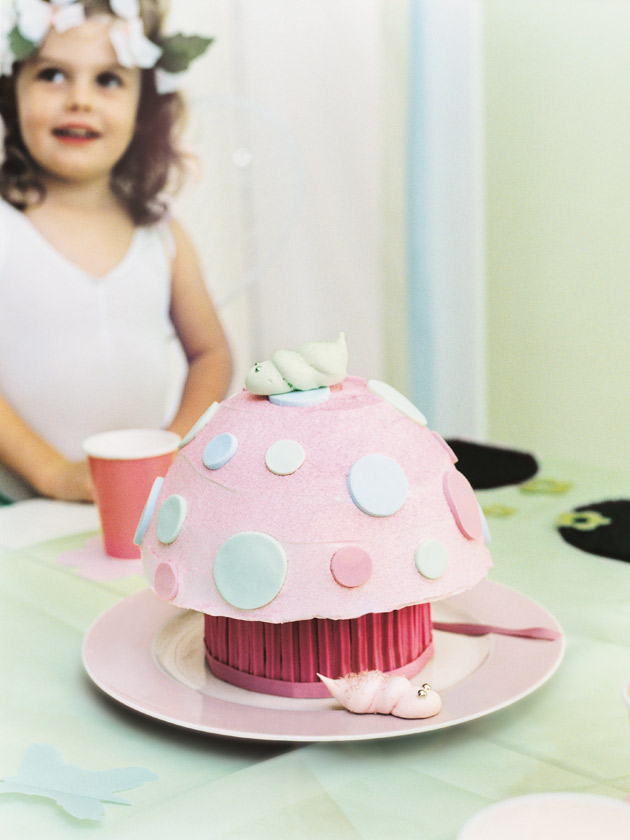 375g (13¼ oz) unsalted butter, softened

1¾ cups caster (superfine) sugar

1½ teaspoons vanilla extract

4 eggs

3¼ cups plain (all-purpose) flour

3¼ teaspoons baking powder

¾ cup cocoa powder, sifted

1½ cups (12 fl oz) milk

¼ cup candy coated chocolates

pink icing
1 cup caster (superfine) sugar

¼ cup (2 fl oz) water

¼ teaspoon cream of tartar

3 eggwhites

pink food colouring

decorations
500g (1 lb) whipped vanilla icing
(see link to recipe in step 5)
pink food colouring

blue food colouring

green food colouring

¼ cup pink sanding sugar

40 musk sticks

Preheat the oven to 180°C (355°F). To make the pink icing, place the sugar, water and cream of tartar in a small saucepan over high heat and stir until the sugar is dissolved. Bring to the boil, reduce the heat and simmer for 3 minutes. Place the eggwhites in the bowl of an electric mixer and beat until soft peaks form. Gradually add the sugar mixture and a few drops of pink food colouring and beat until thick and glossy. Set aside.

Place the butter, sugar and vanilla in the bowl of an electric mixer and beat until light and creamy. Gradually add the eggs and beat well. Sift over the flour, baking powder and cocoa and beat until combined. Fold through the milk and spoon ⅔ cake mixture into a lightly greased 22cm (8½ in) bundt tin.
Spoon the remaining mixture into a lightly greased 12½ cm (5 in) round, 7cm (2¾ in) deep cake tin. Bake the cakes for 40 minutes, remove the smaller cake and bake the remaining cake for 15 minutes or until cooked when tested with a skewer. Cool on wire racks.

Trim the top of the cakes, brushing away any crumbs with a pastry brush. Secure the small cake upside down on a plate with a dollop of icing and secure the inverted bundt cake on top. Fill the well with the chocolates and cover with the pink icing.
To decorate the cake, divide the ready-prepared whipped vanilla icing into three equal portions. Add a few drops of green, blue and pink food colouring to each portion and knead separately on a surface dusted with icing sugar until the colours are even. Roll each portion out to a thickness of 3mm (¹⁄8 in). Use 4½cm (1¾ in), 3cm (1 in) and 2cm (¾ in) round cookie cutters to cut rounds from each portion.
Dust the top of the cake with pink sanding sugar and arrange the musk sticks around the base. Stick the coloured icing rounds over the cake. Serves 10–12.
There are no comments for this entry yet.