choc-mint ice-cream sandwich cake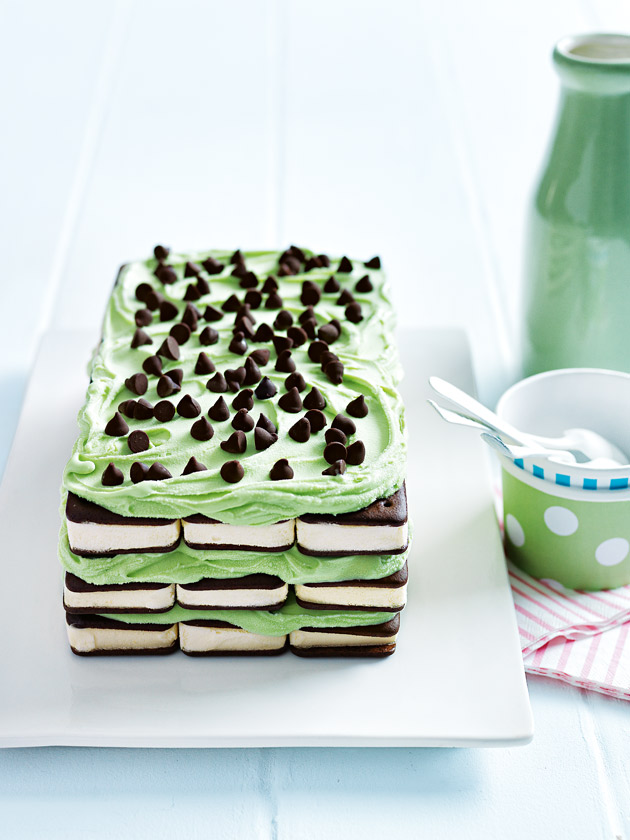 2 litres vanilla ice-cream

½ teaspoon mint essence

green food colouring

18 chocolate and vanilla ice-cream sandwiches

⅓ cup dark chocolate chips, for sprinkling

Place the ice-cream, mint essence and a few drops of food colouring in an electric mixer and beat for 1–2 minutes or until softened. Place the ice-cream in a metal container and freeze for 1 hour or until firm but spreadable.
Working quickly, place 6 ice-cream sandwiches together on a serving dish. This will make the base layer of the cake. Spread evenly with 1½ cups of the mint ice-cream and repeat with remaining ice-cream sandwiches and ice-cream, finishing with a layer of ice-cream.
Return to the freezer and freeze for 2–3 hours or until set. Sprinkle with the chocolate chips and serve immediately. Serves 8–10.
Tips + Tricks
+ Before softening the ice-cream, place in a metal container in the freezer to prevent the ice-cream from melting.
+ If it's a hot day, place the cake in the freezer for 1 hour between assembling each layer.
+ Placing the serving dish in the freezer before assembling will help prevent the ice-cream from melting.
+ The cake can be kept in the freezer for 2–3 days.
There are no comments for this entry yet.