fried rice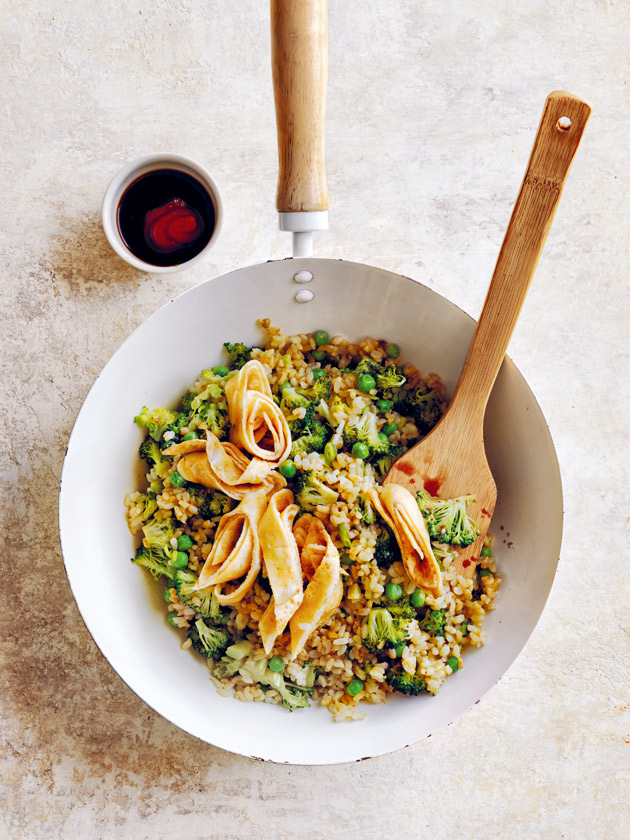 1 tablespoon extra virgin olive oil

2 eggs, lightly beaten (whisk them in a bowl)

1 cup (85g) finely chopped broccoli (about ½ head broccoli)

3 green onions (scallions), trimmed and chopped

1 tablespoon finely grated ginger

5 cups (1kg) cooked brown rice

1 cup (120g) frozen peas

2 tablespoons soy sauce
Place half the oil in a large non-stick frying pan over high heat. Add the egg and make a gentle swirly motion with the pan so it coats the base in a nice thin layer. Cook for 1 minute or until just set and the edges are beginning to turn golden.

Carefully slide the omelette onto a board, using a spatula. Once cooled a little, roll it up and slice it. Cover to keep warm.

Place the remaining oil in the same pan over medium heat. Add the broccoli, onion and ginger and cook, stirring with a spatula, for 2 minutes or until the broccoli is bright green and a little bit soft (you'll also start to smell the ginger in the air).

Add the rice, peas and soy sauce to the pan and cook, stirring a few times, for a further 3–4 minutes or until the rice is steaming hot. Top with the sliced omelette and serve with some extra soy or chilli sauce, if you like. Serves 4.
TIP: You can swap out frozen peas for frozen, shelled edamame beans, if you like.
There are no comments for this entry yet.