upside-down maple and pear muffins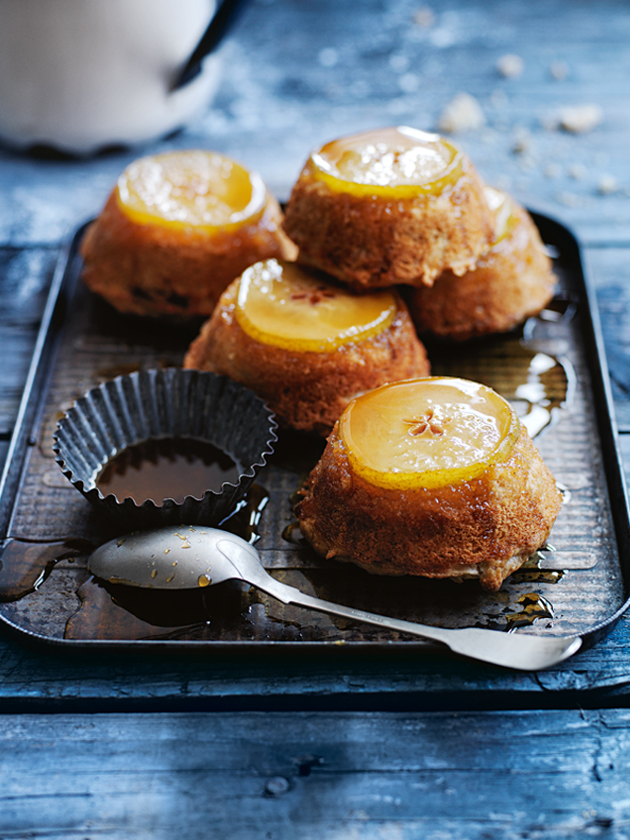 2 small (400g) William (firm green) pears

¼ cup (60ml) maple syrup, plus extra to serve

1¼ cups (185g) self-raising (self-rising) flour

¼ teaspoon ground nutmeg

¼ teaspoon ground cinnamon

¼ cup (55g) caster (superfine) sugar

1 egg, lightly beaten

1 teaspoon vanilla extract

¼ cup (60ml) milk

¼ cup (60ml) vegetable oil

Preheat oven to 180°C (350°F). Cut 1 of the pears into 6 x 1cm-thick round slices and place 1 slice in each base of 6 x ¾-cup-capacity (180ml) well-greased large Texan muffin tins.

Pour the maple syrup over each slice and cook for 10 minutes or until the pear is tender. Peel and grate the remaining pear and place in a large bowl.

Add the flour, nutmeg, cinnamon and sugar and mix to combine. Add the egg, vanilla, milk and oil, and, using a butter knife, mix until just combined. Spoon into the muffin tins, tapping the tins gently.

Cook for 15 minutes or until cooked when tested with a skewer. Remove from the oven and, while hot, invert onto a tray. Set aside to cool for 5 minutes. Serve with extra maple syrup. Makes 6.

There are no comments for this entry yet.