basic banana loaf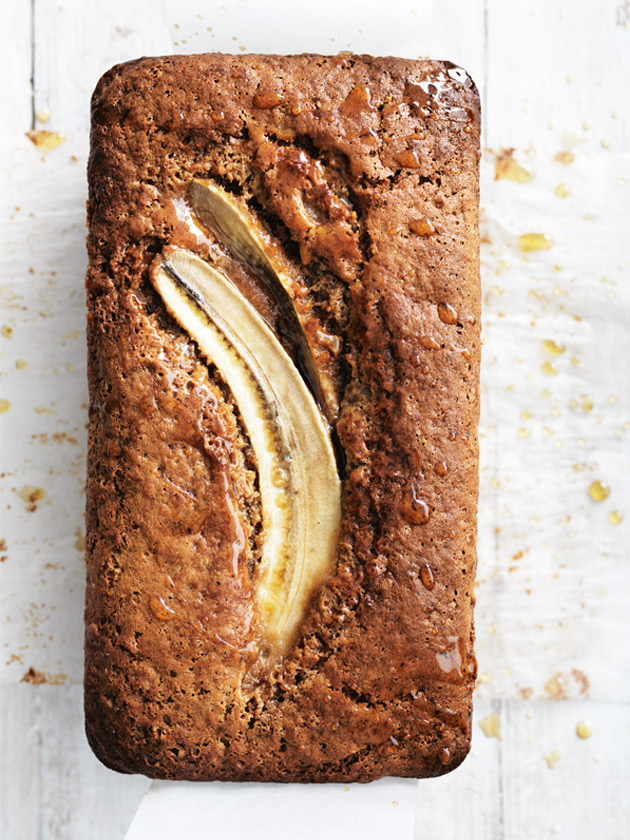 1½ cups (225g) buckwheat flour+

1 cup (220g) rapadura++ or coconut sugar

1 teaspoon baking powder

½ teaspoon bicarbonate of (baking) soda

2 teaspoons ground cinnamon

1 cup mashed ripe bananas (approximately 3 bananas)

1 egg

½ cup (140g) plain (natural) yoghurt

¼ cup (60ml) grapeseed oil

⅓ cup (80ml) maple syrup, plus extra for brushing

2 teaspoons vanilla bean paste

1 banana, extra, halved

Preheat oven to 160°C (325°F). Place the flour, sugar, baking powder, bicarbonate of soda and cinnamon in a large bowl and mix to combine. Add the banana, egg, yoghurt, oil, maple syrup and vanilla and mix to combine.
Pour into a lightly greased 21cm x 10m x 7cm (1.75-litre-capacity) loaf tin lined with non-stick baking paper and top with the banana halves.
Cook for 1 hour–1 hour 10 minutes or until cooked when tested with a skewer. Brush with extra maple syrup to serve. Serves 6–8.
+ Buckwheat flour is a gluten-free flour from health food stores and online.
++ Rapadura sugar is extracted from the pure juice of cane sugar and evaporated over low heat, which means many of the minerals and vitamins in the cane are retained. Find it at specialty food and health food stores.
Tip: To make a banana, chia and blueberry loaf, add ¼ cup (45g) chia seeds and 1 cup (150g) blueberries to the banana mixture before cooking.
Karen Winzar
This is the absolute best banana cake recipe; now the only one I would use. So simple, and yes, I had all the ingredients with the exception of the buckwheat flour but substituted plain wholemeal flour. I only used half the loaf but sliced the rest to freeze; when defrosted tasted like it was freshly baked.
Maree Slatter
I just made this banana bread. It is the fourth recipe I have tried. It is amazing and it will become a family favourite for sure. Hardly any left.
Karen Crisp
This is the BEST EVER Banana bread I have ever tasted. Having made major changes to my diet for health reasons I had all these ingredients in the cupboard, loved it as did my whole family
Jodi Petty
Buckwheat flour, Rapadura & maple syrup don't seem very basic….