chocolate beetroot muffins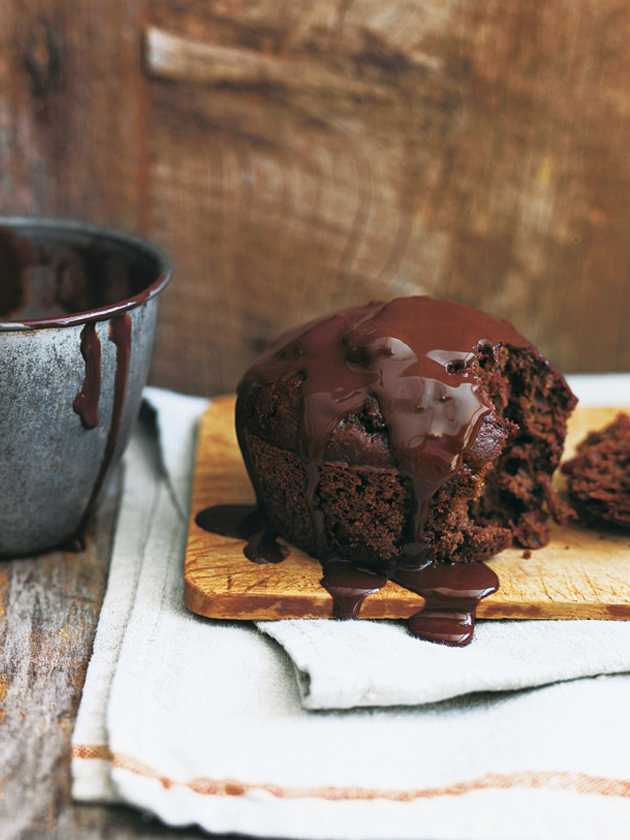 1 beetroot (250g), peeled and trimmed

3 eggs

½ cup (90g) brown sugar

½ cup (50g) raw cacao powder*

½ cup (60g) almond meal (ground almonds)

½ cup (75g) buckwheat flour

½ cup (125ml) buttermilk

2 teaspoons baking powder

chocolate syrup
¼ cup (25g) raw cacao powder +

¼ cup (60ml) maple syrup

1 teaspoon vanilla extract

⅓ cup (80ml) water

Preheat oven to 160°C (325°F). Grate the beetroot (you should have 1¾ cups). Place the beetroot, eggs, sugar, cacao, almond meal, flour, buttermilk and baking powder in a large bowl. Mix to combine.

Divide the mixture between 6 x ¾-cup-capacity (180ml) lightly greased large Texan muffin tins. Bake for 25 minutes or until cooked when tested with a skewer. Set aside for 5 minutes. Turn out onto a wire rack to cool.

To make the chocolate syrup, place the cacao, maple syrup, vanilla and water in a small saucepan over medium heat. Stir until combined. Cook, stirring occasionally, for 4 minutes or until smooth and slightly thickened.

Drizzle the cakes with the syrup to serve. Makes 6.
+ Raw cacao powder is made by cold-pressing unroasted cocoa beans. Find it in some supermarkets and health food stores.
Rochelle Badolato
This looks yummy but to have it for school it has to be nut free, what can I substitute for the almond flour? Spelt?