apple cider, mustard and sage glazed ham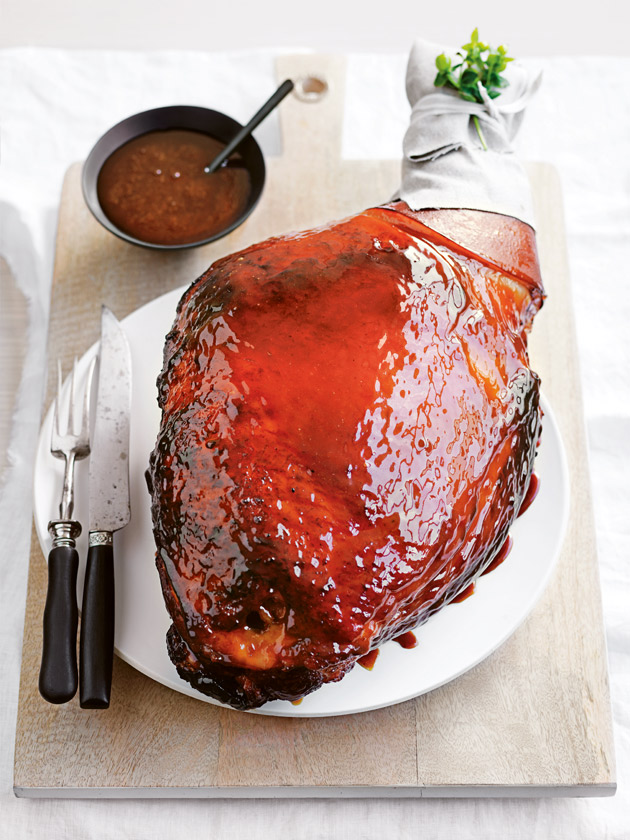 3 cups (750ml) apple juice

4 cups (1 litre) alcoholic apple cider

1 cup (250ml) maple syrup

2 cups (350g) brown sugar

¼ cup (70g) hot English mustard

1 cup (250ml) apple cider vinegar

10 cloves

8 bay leaves

1 bunch sage leaves

1 x 8kg leg ham, rind removed+

Place the apple juice, apple cider, maple syrup, sugar, mustard, vinegar, cloves, bay leaves and sage in a large saucepan over high heat.

Bring to the boil and cook for 30 minutes or until reduced and syrupy. Strain the glaze, discarding the solids. Preheat oven to 200°C (400°F).

Place the ham, top-side down, into a deep-sided roasting dish and wrap the hock with non-stick baking paper and aluminium foil.

Pour the glaze over the ham and cook for 1 hour. Remove from the oven, turn the ham over and cook for a further 30 minutes or until dark golden brown and sticky.

Remove the ham from the oven and transfer to a serving platter. Spoon the remaining glaze over the ham to serve. Serves 12.
+ Use a sharp knife to score the skin around the hock before using your fingers to gently remove the skin from the ham. Trim any excess fat.
There are no comments for this entry yet.