caprese salad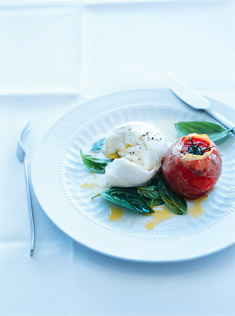 4 vine-ripened tomatoes

4 slices prosciutto

sea salt and cracked black pepper

extra-virgin olive oil, for drizzling

2 x 125g buffalo mozzarella, torn

1 cup basil leaves

1 tablespoon white wine vinegar

2 tablespoons extra-virgin olive oil, extra

Preheat oven to 200ºC (390ºF). Wrap tomatoes in prosciutto and place on a baking tray lined with non-stick baking paper. Sprinkle with salt and pepper and drizzle with oil. Roast for 10–15 minutes or until the prosciutto is crisp.
Serve with the mozzarella and basil and drizzle with the vinegar and extra oil. Serves 4.

There are no comments for this entry yet.