rosemary, mascarpone and potato tart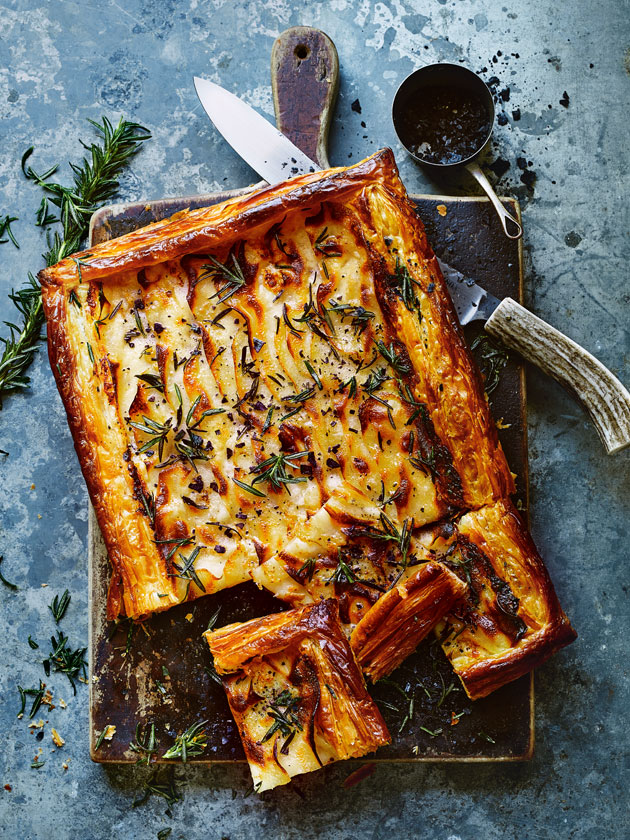 1 x 375g sheet frozen puff pastry+, thawed

1 cup (75g) finely grated manchego

½ cup (120g) mascarpone

350g Dutch cream potatoes++, peeled and thinly sliced

1 tablespoon extra virgin olive oil

sea salt and cracked black pepper

4 sprigs rosemary, chopped

Preheat oven to 200°C (400°F). Place the pastry on a large oven tray lined with non-stick baking paper. Using a small sharp knife, gently score a 2cm border around the edge of the pastry and prick the centre with a fork. Refrigerate until needed.
Place the manchego and mascarpone in a small bowl and mix to combine. Place the potatoes, oil, salt and pepper in a medium bowl and toss to coat. Spread the mascarpone mixture over the pastry, top with the potato and cook for 25–30 minutes. Add the rosemary and cook for a further 2 minutes or until golden and pastry is cooked. Serve. Serves 8.
+ If you can't get a single sheet of 375g puff pastry, place 2 sheets of puff pastry together, overlapping by 4cm. Using a rolling pin, roll the sheets together to secure, then trim the edge.
++ You can use other waxy potatoes such as kipfler potatoes in place of Dutch cream.
There are no comments for this entry yet.