spiced carrot, egg and labne tart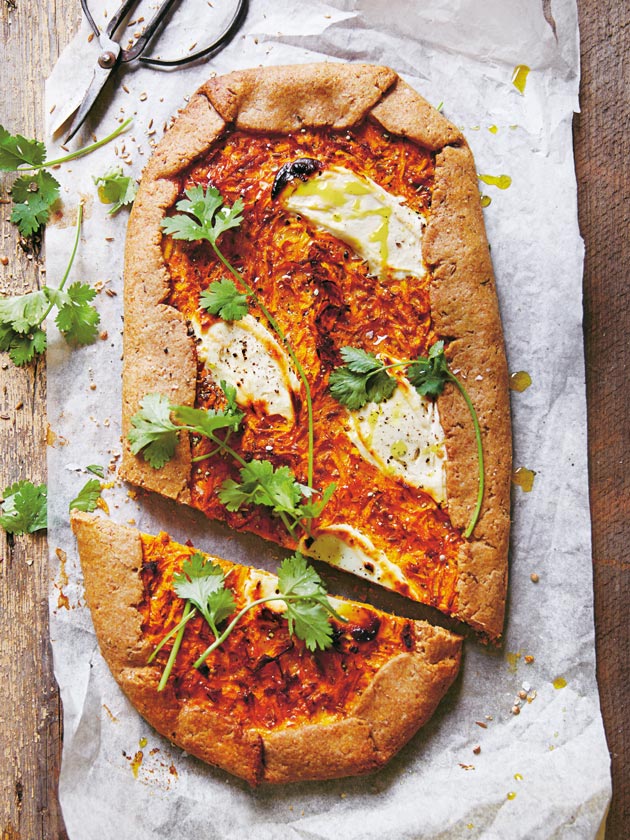 2 cups (300g) grated carrot+

1 clove garlic, crushed

3 eggs, lightly beaten

1 teaspoon coriander seeds, crushed

1 teaspoon cumin seeds, crushed

sea salt and crack black pepper

¼ cup (50g) labne (yoghurt cheese)

coriander (cilantro) sprigs, to serve
wholemeal hot water pastry
100g unsalted butter, chopped

⅓ cup (80ml) water

1½ cups (210g) wholemeal spelt flour

½ teaspoon sea salt flakes

1 teaspoon coriander seeds, crushed

1 teaspoon cumin seeds, crushed

To make the wholemeal hot water pastry, place the butter and water in a medium saucepan over high heat and bring to the boil. Remove from the heat, add the flour, salt, coriander seeds and cumin seeds, and mix well to combine. Turn out the dough onto a clean surface and knead until smooth. Roll out on a large sheet of non-stick baking paper to a 25cm x 35cm oval. Place on an oven tray.

Preheat oven to 200°C (400°F). Place the carrot, garlic, egg, coriander seeds, cumin seeds, salt and pepper in a medium bowl and mix to combine. Spread over the pastry, leaving a 5cm border. Spoon over the labne and fold over the edges of the pastry, pressing lightly to seal. Cook for 25–30 minutes or until the pastry is golden. Top with coriander and sprinkle with salt and pepper to serve. Serves 6.
+ You will need about 2 carrots to make 2 cups grated carrot.
There are no comments for this entry yet.