salted dark chocolate layer cake
with milk chocolate ganache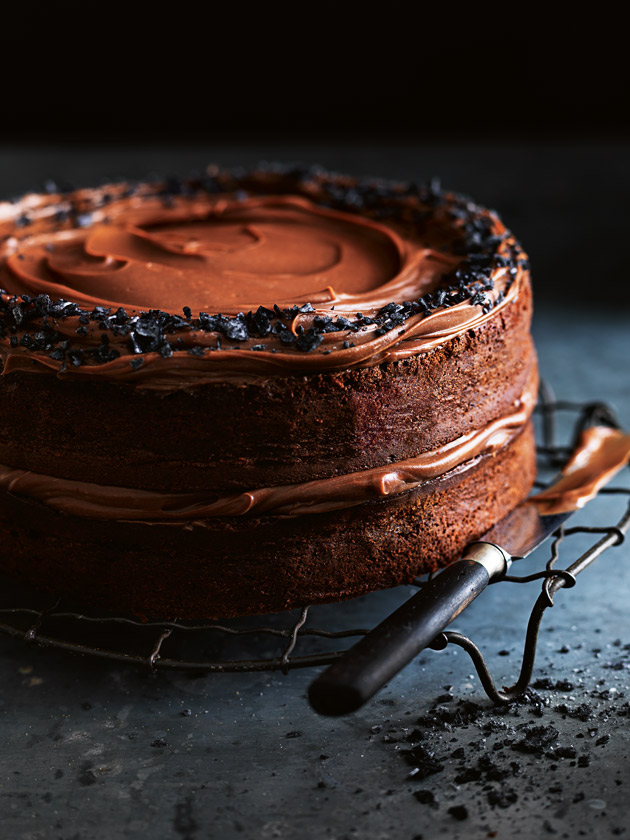 2½ cups (375g) self-raising (self-rising) flour, sifted
½ cup (50g) Dutch cocoa, sifted
1½ cups (330g) caster (superfine) sugar
4 eggs
1½ cups (375ml) milk
250g unsalted butter, melted
200g dark chocolate, melted
2 teaspoons vanilla extract
2 teaspoons black sea salt flakes
QUICK MILK CHOCOLATE GANACHE
400g milk chocolate, melted
250g sour cream
Preheat oven to 180°C (350°F). Place the flour, cocoa, sugar, eggs, milk, butter, melted chocolate and vanilla in a large bowl and whisk until smooth.
Divide the mixture between 2 lightly greased 20cm round cake tins lined with non-stick baking paper and cook for 40–45 minutes or until cooked when tested with a skewer. Allow the cakes to cool in the tins for 10 minutes, turn out onto a wire rack and set aside to cool completely.
While the cakes are cooling, make the ganache. Place the melted chocolate and sour cream in a large bowl and mix to combine. Set aside in the refrigerator for 10 minutes or until firmed slightly.
Trim the cakes and spread half the ganache over one cake. Top with the remaining cake and top with remaining ganache. Sprinkle with the black salt to serve. Serves 8–10.
Catherine Li-Abrams
Hi Donna, would I be able to use a single 20 cm cake tin while baking and then cut the cake in the middle to create 2 smaller cakes?