polenta and parmesan-crumbed potatoes
with rosemary salt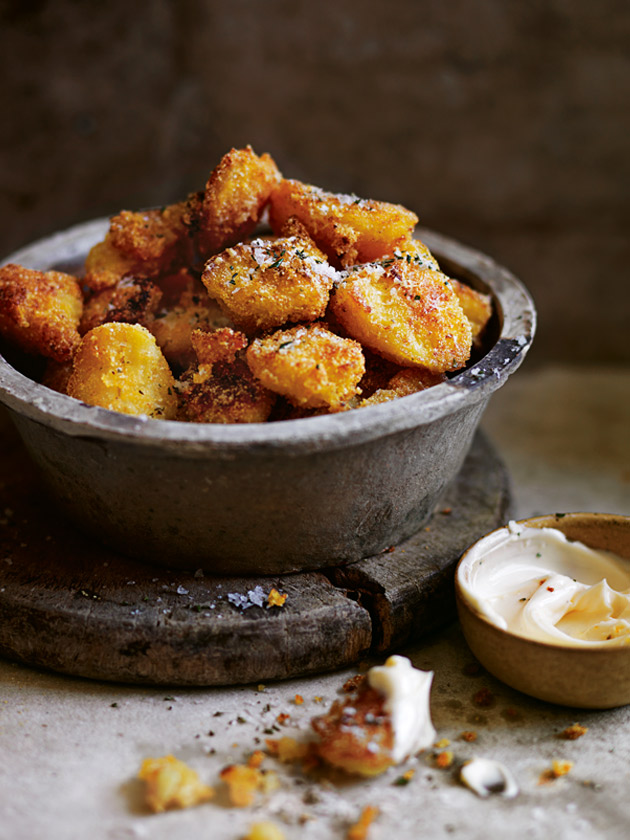 1.5kg Dutch cream (waxy) potatoes, peeled and chopped
½ cup (85g) instant polenta
½ cup (40g) finely grated parmesan
6 cloves garlic, thinly sliced
½ cup (120g) store-bought duck fat
1 tablespoon finely chopped rosemary leaves
2 tablespoons sea salt flakes
whole-egg mayonnaise, to serve
Place the potato in a large saucepan of cold salted water. Bring to the boil and cook for 6–8 minutes or until tender. Drain and return to the saucepan.
Add the polenta, parmesan and garlic, cover with a lid and shake to coat the potato in polenta.
While the potato is cooking, heat the duck fat in a large non-stick frying pan over high heat. Add the potato and cook, turning occasionally, for 8–10 minutes or until golden.
Place the rosemary and salt in a small bowl and mix to combine. Sprinkle the potato with the rosemary salt and serve

with mayonnaise. Serves 6.
There are no comments for this entry yet.