ricotta fritters with pea and mint dip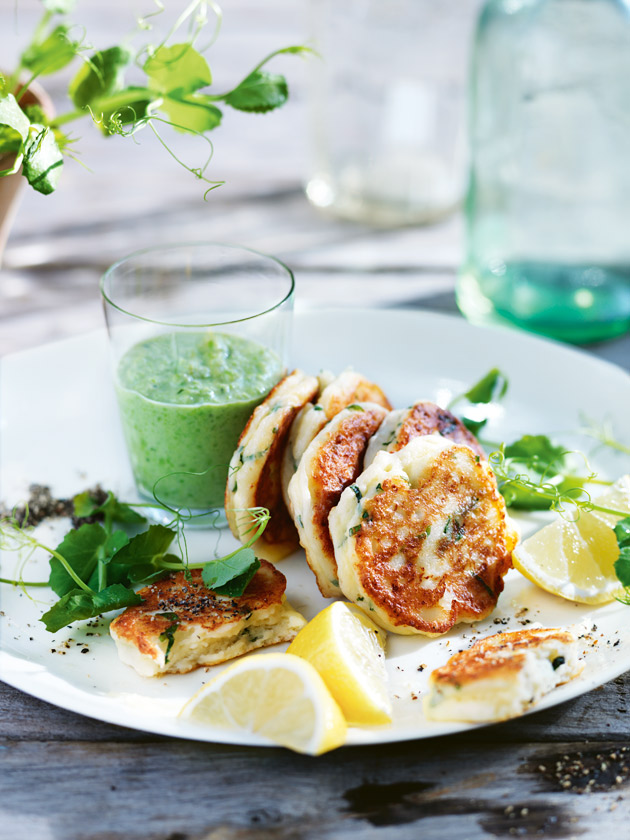 2 cups (400g) fresh ricotta

½ cup mint leaves, shredded

2 tablespoons self raising (self-rising) flour

2 eggwhites

extra virgin olive oil, for brushing

1 cup snow pea tendrils, to serve

lemon wedges, to serve

pea and mint dip
2½ cups (300g) frozen peas, thawed

¼ cup (60g) sour cream

1 tablespoon finely grated lemon rind

½ cup mint leaves

sea salt and cracked black pepper

To make the pea and mint dip, place the peas, sour cream, lemon, mint, salt and pepper in a tall container and, using a hand-held stick blender, blend to a purée. Set aside.

To make the fritters, place the ricotta, mint, flour, salt and pepper in a large bowl and mix to combine. Place the eggwhites in a large bowl and whisk until firm peaks form. In three batches, gently fold the eggwhites into the ricotta mixture. Heat a large non-stick frying pan over medium heat and brush with the oil. Working in batches, cook 2-tablespoon portions of the ricotta mixture for 2–3 minutes each side, or until lightly golden and cooked through. Serve fritters with the dip, snow pea tendrils and lemon wedges. Makes 12.

Peter Lugg
I'm just revisiting Donna's tasty and vibrant cooking style. This recipe epitomises her style - fresh, clean, light and healthy with a nice simple method. I shall cook this later today! Thanks Donna.