caramel pecan brownie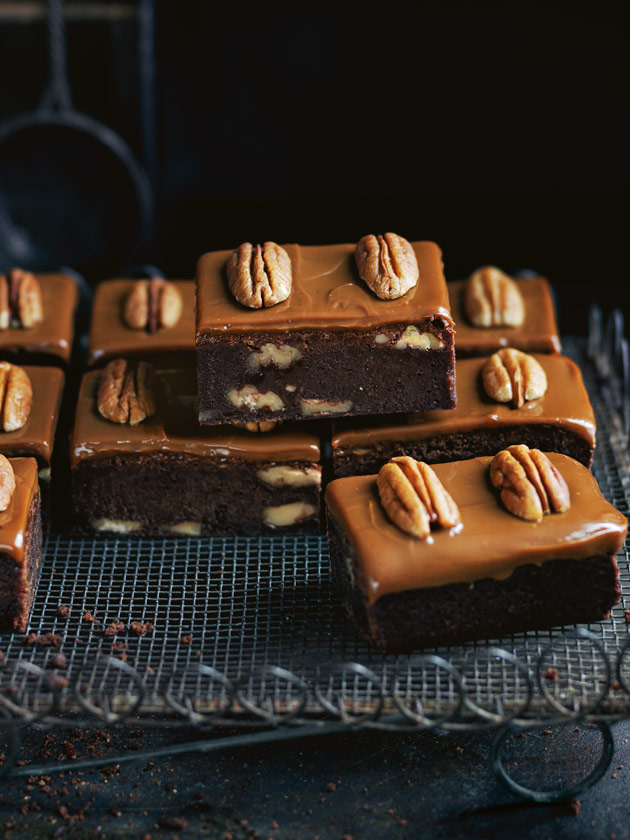 225g unsalted butter, chopped

200g dark chocolate, chopped

200g 70% dark chocolate, chopped

4 eggs

1 cup (220g) white (granulated) sugar

1 cup (175g) brown sugar

2 teaspoons vanilla extract

1 cup (150g) plain (all-purpose) flour, sifted

1 cup (120g) pecans, chopped, plus 48 extra

1 cup (300g) store-bought dulce de leche or thick caramel

Preheat oven to 180°C (350°F). Place the butter and both chocolates in a medium saucepan over low heat and stir until melted and smooth. Remove from the heat and set aside.

Place the eggs, white sugar, brown sugar and vanilla in a medium bowl and whisk to combine. Add the egg mixture to the chocolate mixture and stir until combined. Add the flour and pecans and stir until well combined.
Pour into a lightly greased 20cm x 30cm slice tin lined with non-stick baking paper. Cook for 35–40 minutes or until fudgy when tested with a skewer. Set aside in the tin to cool completely.

Remove from the tin, spread with the dulce de leche and top with the extra pecans, pressing into the dulce de leche. Refrigerate for 30 minutes or until firm. Cut into 24 slices to serve. Makes 24.

donna hay team
Hi Erin, we recommend using a dark chocolate that ranges between 50-65%. Enjoy!
Erin Gordon
What percentage is the other dark chocolate? You only list the percentage (70) for one of them.