cheat's glazed ham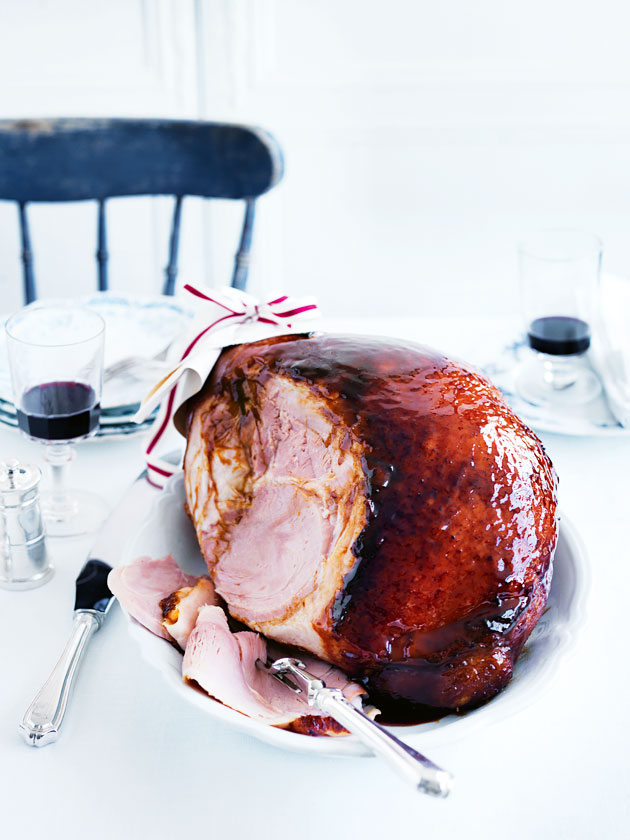 3 cups (750ml) orange juice
3 cups (525g) brown sugar
1 cup (250ml) red wine vinegar
1 stick cinnamon
8 cloves
16 sprigs thyme
3 cups (750ml) port
1 x 6–7kg ham leg, skin removed and trimmed (see tip)

Preheat oven to 220°C (425°F). Place the juice, sugar, vinegar, cinnamon, cloves and thyme in a medium saucepan over high heat and stir until the sugar has dissolved. Bring to the boil and cook for 30 minutes or until reduced. Remove from the heat and stir through the port. Strain the glaze into a jug, discarding the solids.
Place the ham, top-side down, into a tight-fitting, deep-sided baking dish and wrap the hock with non-stick baking paper followed by aluminium foil. Pour the glaze over the ham and roast for 40 minutes. Remove from the oven and reduce the oven temperature to 200°C (400°F).
Turn the ham over, baste with the glaze and roast for a further 20–25 minutes or until golden. Remove the ham from the baking dish and place on a serving platter. Spoon the remaining glaze over the ham to serve. Serves 8–10.

Tip: Use a sharp knife to score the skin around the hock before using your fingers to gently remove the skin from the ham. Trim any excess fat.
Toni Racca
Has anyone else had the issue where the sauce boils over I constantly have this issue where the sauce boils over the pot no matter how big it is
Tcarolyn Bradley
This seems a lot of liquid. Do you put the whole lot in with the ham- it would seem to be swimming more than being glazed.
Julie Letters
Thank you Donna Hay, this was my first attempt of making a baked ham and I nailed it! Everyone was talking about it and asking for more. I will make this every year now!
donna hay team
Hi Janice, yes - you can prepare ahead of time and serve cold. You can reserve the glaze and reheat it if desired. The DH team
donna hay team
Hi Rebecca, as we haven't tested a half ham it is hard for us to say. I would check at the halfway point. Cook the ham for the first 40 minutes as suggested and then check every 15 minutes. Merry Christmas!
Marie Thuresson
Excellent and my baked ham was delicious. How easy it was just to turn it once and not have to keep basting. My friends came back for seconds and the extra glaze was served as a sauce and wow…delicious. I will be using this recipe from now on… Thanks
Rebecca Alcock
How would the cooking times change for a half leg? thanks
Janice BAKER
Can I prepare this the day before and serve cold?
Fiona GLENN
Simply delicious and very easy. Has been a family favourite and is requested again for Christmas!
Rebecca Alcock
I want to make this but can only fit a half leg ham in my oven. How will this alter the cooking times given? Thanks
Julia McIntyre
Was sensational the flavour was perfect enhanced the ham