crumbed salmon with sweet potato chips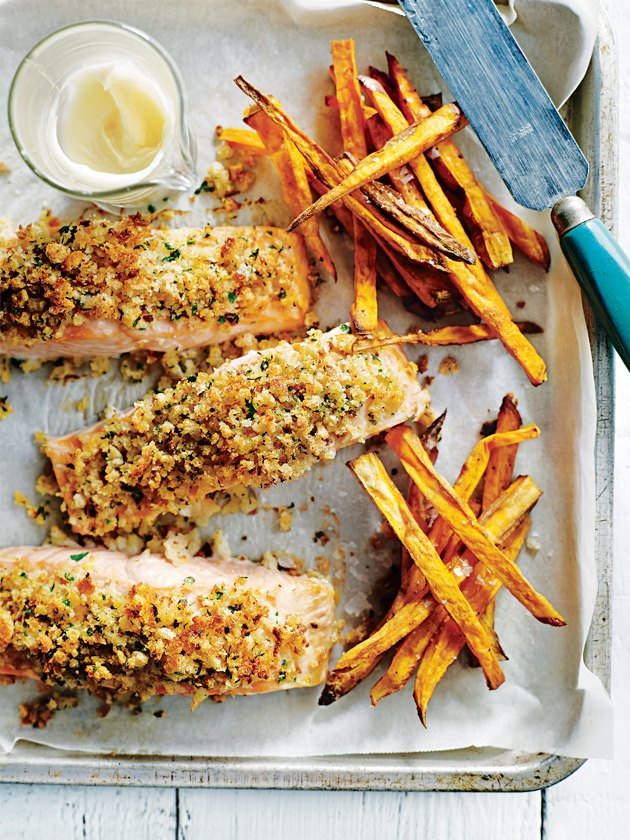 1kg sweet potatoes (kumara), peeled and cut into chips
1 tablespoon olive oil
sea salt and cracked black pepper

2 cups (140g) fresh breadcrumbs

½ cup flat-leaf parsley leaves, chopped

40g unsalted butter, melted

4 x 200g salmon fillets, skin removed

whole-egg mayonnaise, to serve

Preheat oven to 200°C (400°F). Place the sweet potato on a baking tray, drizzle with oil and sprinkle with salt and pepper. Roast for 30–35 minutes or until golden.

While the sweet potato is cooking, place the breadcrumbs, parsley, butter, salt and pepper in a bowl and mix to combine.

Place the salmon on a baking tray lined with non-stick baking paper, top with the breadcrumb mixture and bake for 12–15 minutes or until golden and cooked to your liking.

Serve with the sweet potato chips and mayonnaise. Serves 4.

To spice it up: add finely grated lemon rind and dried chilli flakes to the breadcrumbs.
amy cunningham
Delicious, healthy and quick dinner. I substituted breadcrumbs for Yankee (Japanese) breadcrumbs and was very pleased with the result. Thanks Donna, you make me look good!