strawberry, ricotta and rhubarb tart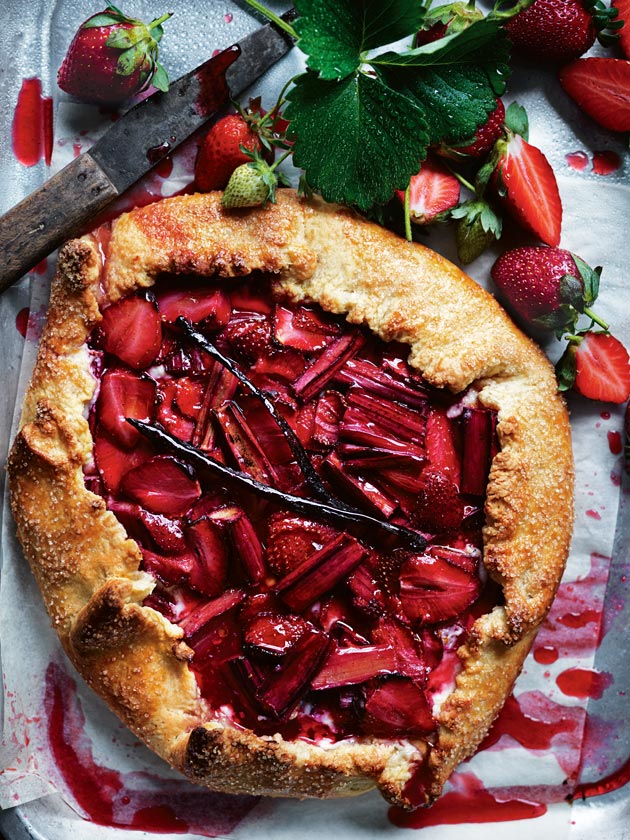 ¾ cup (180g) fresh ricotta

1 teaspoon finely grated orange rind

250g strawberries, sliced

150g rhubarb, cut into 2cm lengths

⅓ cup (75g) caster (superfine) sugar

1 vanilla bean, seeds scraped

1 egg, lightly beaten

2 tablespoons raw sugar
pastry
1½ cups (225g) plain (all-purpose) flour

¼ cup (55g) caster (superfine) sugar

1 teaspoon finely grated orange rind

60g cold unsalted butter, chopped

40g cold lard, chopped

2 teaspoons apple cider vinegar

¼ cup (60ml) iced water

1 teaspoon vanilla extract

To make the pastry, place the flour, sugar and orange rind in a large bowl and mix to combine. Add the butter and lard and, using your fingertips, rub into the flour mixture until it resembles fine breadcrumbs. Add the vinegar, water and vanilla and, using a butter knife, bring the mixture together to form a rough dough. Lightly knead to bring the dough together. Shape into a disc and wrap in plastic wrap. Refrigerate for 30 minutes or until firm.

Preheat oven to 200°C (400°F). Roll the pastry out between 2 sheets of non-stick baking paper to a 4mm-thick 35cm round. Place on a large lightly greased baking tray lined with non-stick baking paper.
Place the ricotta and orange rind in a medium bowl and mix to combine. Spread over the pastry, leaving a 5cm border.
Place the strawberries, rhubarb, caster sugar and vanilla seeds and bean in a medium bowl and toss well to combine.
Top the ricotta with the fruit and fold over the pastry edges, pressing lightly to seal. Brush the edge with the egg and sprinkle with the raw sugar. Refrigerate for 10 minutes or until firm.
Cook for 10 minutes. Reduce heat to 180°C (350°F) and cook for 40 minutes or until the pastry is golden and the fruit is bubbling. Set aside for 10 minutes before serving.
Serves 8–10.

There are no comments for this entry yet.