coconut and raspberry rye pancakes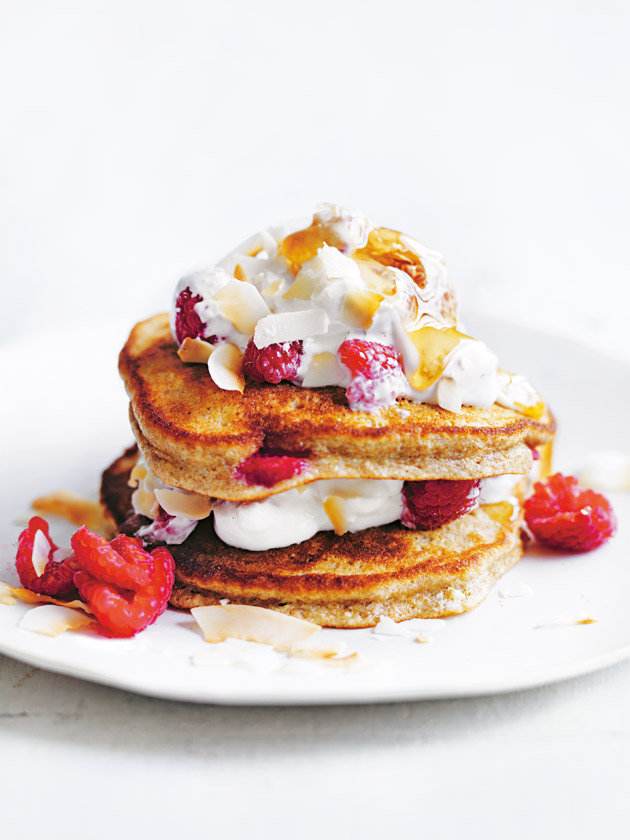 1¼ cups (150g) whole rye flour

¼ cup (20g) desiccated coconut

¾ cup (180ml) milk

⅓ cup (115g) honey, plus extra to serve

1½ teaspoons baking powder

1 teaspoon vanilla

4 eggs, separated

1 cup (150g) frozen raspberries

1 tablespoon grapeseed oil, for brushing

1 cup (120g) coconut yoghurt

1 cup (135g) fresh raspberries, plus extra to serve

½ cup (25g) flaked coconut, toasted

Place the flour, desiccated coconut, milk, honey, baking powder, vanilla and egg yolks in a bowl and stir to combine.
Place the eggwhites in a clean bowl and whisk with electric beaters until stiff peaks form. Add the eggwhites to the pancake mixture, in 2 batches, and fold to combine. Add the frozen raspberries and fold to combine.
Heat a large non-stick frying pan over low heat and brush the pan with oil. Cook ⅓ cups of the batter, in batches, for 2–3 minutes each side or until golden.

Place the yoghurt and fresh raspberries in a bowl and stir gently to combine. Place 1 pancake on each plate. Top with half the yoghurt mixture, the remaining pancakes and the remaining yoghurt mixture. Sprinkle with the flaked coconut and extra fresh raspberries, and drizzle with extra honey to serve. Serves 4.
+ Find whole rye flour in health food stores.

There are no comments for this entry yet.