chewy chai slice with cinnamon sugar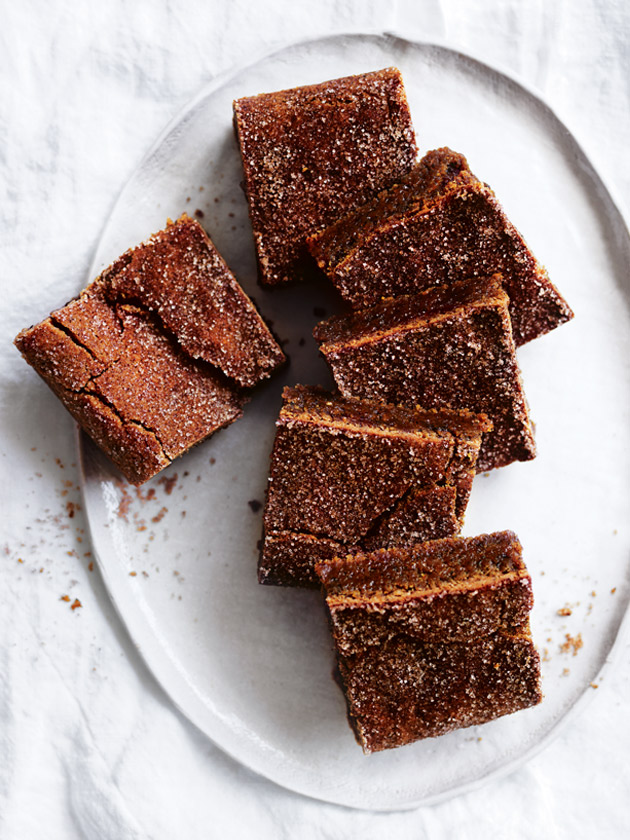 230g unsalted butter, chopped

3¼ cups (485g) plain (all-purpose) flour

1½ tablespoons loose chai tea

1 teaspoon ground ginger

2 teaspoons ground cinnamon

½ teaspoon bicarbonate of (baking) soda

1 teaspoon baking powder

3 cups (525g) brown sugar

3 eggs, beaten

1½ tablespoons white (granulated) sugar

1 teaspoon ground cinnamon, extra

Preheat oven to 160°C (325°F). Place the butter in a medium frying pan over high heat. Cook for 6 minutes or until the butter is nutty brown. Set aside to cool slightly.

Place the flour, chai tea, ginger, cinnamon, bicarbonate of soda, baking powder and sugar in a large bowl and mix to combine. Add the browned butter and eggs and mix well to combine.

Spoon the mixture into a lightly greased 20cm x 30cm slice tin lined with non-stick baking paper and smooth the top with a palette knife.

Place the white sugar and cinnamon in a small bowl, mix to combine and sprinkle over the top of the batter. Cook for 25–30 minutes or until a skewer comes out a little tacky.

Set aside to cool in the tin completely+. Cut into 5cm squares to serve. Makes 24.
+ The slice will sink a little while cooling. Store in an airtight container for up to a week.
Darina Kehoe
I needed to use one extra egg and bake for one hour
donna hay team
Hi Debbie, yes that would be fine. Happy cooking! DH team
Debbie Lake
couldn't find loose chai tea, would it be ok to get tea bags and tear them open?