mini christmas cakes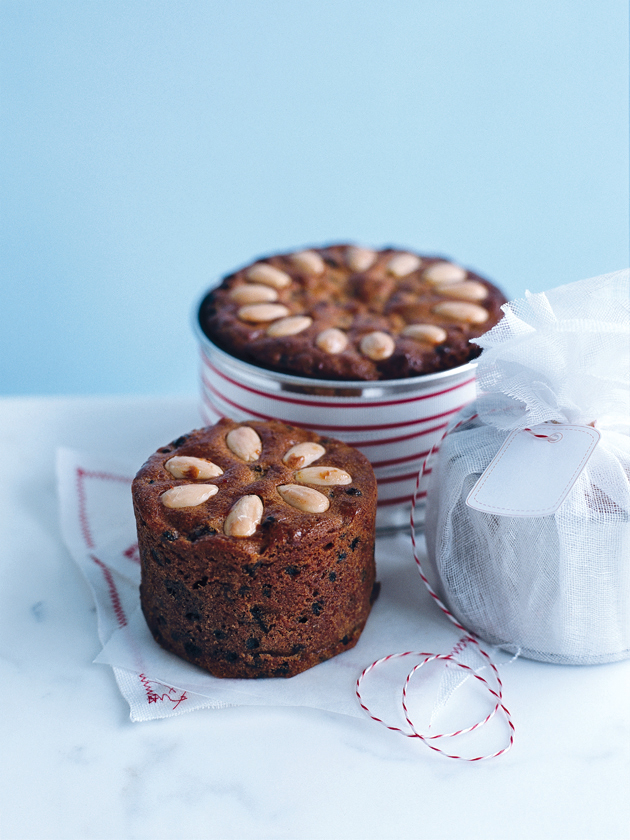 1 cup (160g) raisins

2 ¼ cups (306g) sultanas

¾ cup (120g) currants

1 cup (140g) slivered almonds

1 cup (140g) chopped dates

¾ cup (180ml) brandy

1 teaspoon ground cinnamon

¼ teaspoon ground nutmeg

1 teaspoon vanilla extract

300g butter, softened and chopped

1 ¼ cup (220g) brown sugar

4 eggs

2 ¼ cups (335g) plain (all-purpose) flour

¼ teaspoon bicarbonate of (baking) soda

¼ cup blanched almonds

Place the raisins, sultanas, currants, almonds, dates, brandy, cinnamon, nutmeg and vanilla in a bowl, mix well, cover and soak for 6–8 hours or overnight. Preheat oven to 150ºC (300ºF).
Place butter and sugar in the bowl of an electric mixer and beat for 8–10 minutes or until light and creamy. Add the eggs, one at a time, and beat well after each addition. Sift flour and bicarbonate of soda over the fruit mixture and mix well, ensuring all the fruit is coated in flour. Add the butter mixture and stir to combine well.
Spoon into prepared 22cm-round cake tin. Press the almonds around the edge of the cake to decorate. Bake for 3 hours 10 minutes or until cooked when tested with a skewer. Allow to cool in the tin. Serves 8–12.

+ To make 9cm-round cakes, bake for 1 hour 30 minutes. Makes 6. To make 12cm-round cakes, bake for 1 hour 50 minutes. Makes 3.
There are no comments for this entry yet.