chickpea and broccoli soup
with pecorino croutons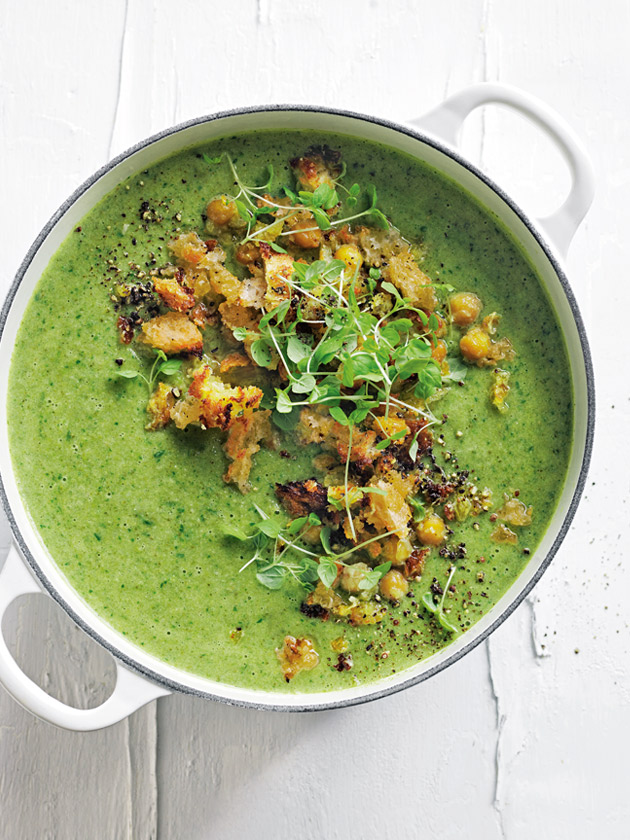 2 cups (140g) coarse sourdough breadcrumbs
1⁄2 cup (40g) finely grated pecorino
400g can chickpeas (garbanzos), rinsed and drained

2 tablespoons extra virgin olive oil
1 onion, thinly sliced
2 cloves garlic, thinly sliced
1 teaspoon fennel seeds
1 litre chicken stock
1kg broccoli, trimmed and sliced
micro (baby) mint leaves and cracked black pepper, to serve
Preheat oven to 220°C (425°F). Place the breadcrumbs, pecorino and half the chickpeas on a large oven tray lined with non-stick baking paper. Toss to combine. Drizzle with half the oil and cook for 6–8 minutes or until golden brown.

While the breadcrumbs are cooking, heat the remaining oil in a large saucepan over high heat. Add the onion,garlic and fennel and cook, stirring, for 3 minutes, or until softened. Add the stock and bring to the boil.

Add the broccoli and remaining chickpeas and cook for 4–5 minutes or until the broccoli has softened. Remove from the heat and, using a hand-held blender, blend until smooth. Divide between bowls, top with the breadcrumb mixture and mint. Sprinkle with pepper to serve. Serves 4.
There are no comments for this entry yet.