chorizo and prawn paella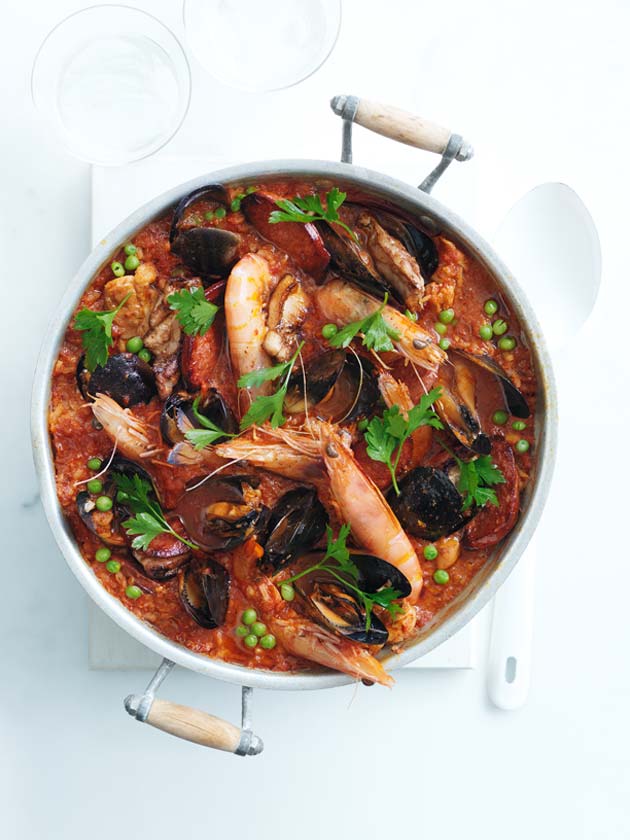 2 teaspoons extra virgin olive oil

1 dried chorizo, sliced

3 x 125g chicken thigh fillets, roughly chopped

1½ cups (300g) arborio rice

¼ cup (60ml) sherry vinegar

2½ cups (625ml) chicken stock

300g mussels, rinsed and cleaned

350g green (raw) prawns (shrimp), unpeeled

⅓ cup (40g) frozen peas, thawed

flat-leaf parsley leaves, to serve

tomato sauce
4 cloves garlic, peeled

1 onion, chopped

200g store-bought roasted capsicum (pepper)

10 threads saffron

1 tablespoon thyme leaves

2 teaspoons sweet paprika

2 teaspoons smoked paprika

400g can crushed tomatoes

sea salt and cracked black pepper

To make the tomato sauce, place the garlic, onion, capsicum, saffron, thyme, sweet paprika, smoked paprika, tomato, salt and pepper in a food processor and process until smooth. Set aside.

Heat the oil in a large non-stick frying pan or paella pan over high heat. Add the chorizo and cook for 1–2 minutes or until golden. Add the chicken and cook for 2–3 minutes or until browned. Add the rice and cook, stirring, for 1 minute. Add the vinegar and cook for 1 minute or until absorbed. Stir through the stock and tomato sauce and bring to the boil.

Push the mussels and prawns into the rice and reduce heat to low. Cook for 15 minutes without stirring. Increase heat to medium and cook for a further 4 minutes.

Remove the paella from the heat, top with the peas, cover with aluminium foil and set aside to rest for 15–18 minutes or until the liquid is absorbed. Top with the parsley leaves to serve. Serves 4.

There are no comments for this entry yet.