creamy chicken, silverbeet
and ricotta cannelloni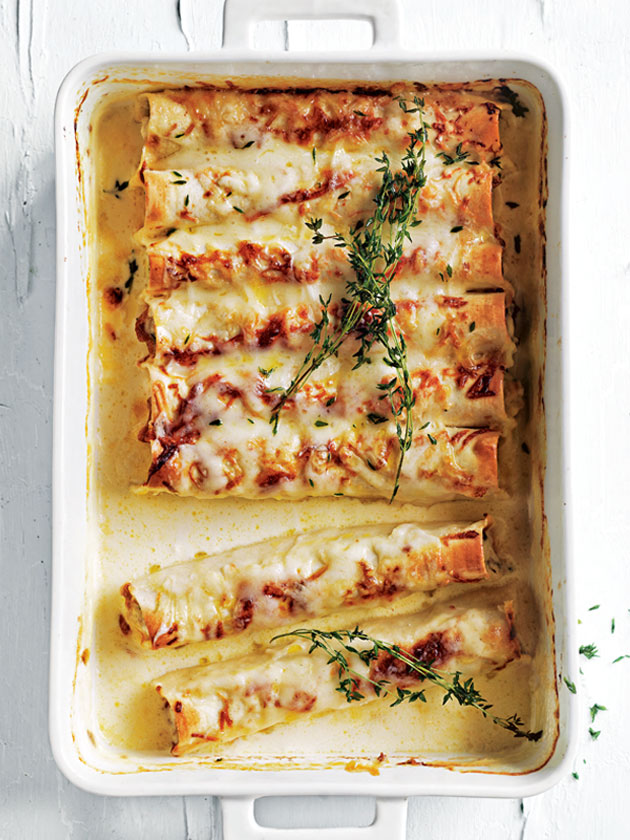 500g chicken mince

1 cup (35g) shredded silverbeet (Swiss
chard)

1½ cups (360g) fresh ricotta

1 tablespoon thyme leaves, plus extra
sprigs to serve

1 teaspoon finely grated lemon rind

2 cloves garlic, crushed

1½ teaspoons sea salt flakes

cracked black pepper

1 cup (80g) finely grated parmesan

3 fresh lasagne sheets, cut into 10 x
10cm-wide rectangles

1½ cups (375ml) single (pouring) cream

Preheat oven to 220°C (425°F). Place the chicken, silverbeet, ricotta, thyme leaves, lemon rind, garlic, salt, pepper and half the parmesan in a large bowl and mix to combine.

Top half of each pasta rectangle with ⅓ cup of the chicken mixture and roll to enclose.

Place the cannelloni in an 18cm x 32cm rectangular ovenproof dish. Top with the remaining parmesan, pour over the cream and top with thyme sprigs.

Cook for 18–20 minutes or until golden brown and the cream has reduced slightly. Set aside for 5 minutes before serving. Serves 4.

There are no comments for this entry yet.
RELATED VIDEO