lemon yoghurt cake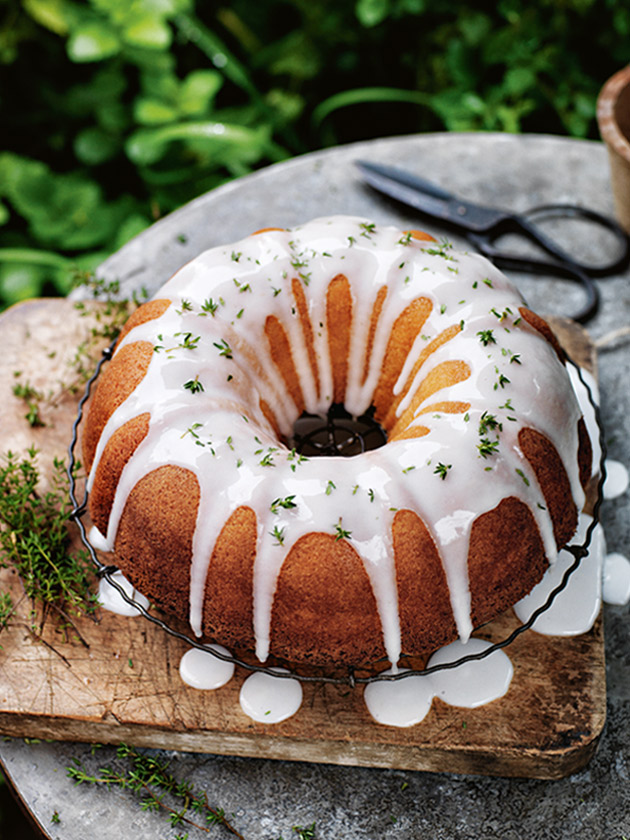 ¾ cup (180ml) vegetable oil

2 eggs

1 tablespoon finely grated lemon rind

¼ cup (60ml) lemon juice

1 cup (280g) natural Greek-style (thick) yoghurt

1¾ cups (385g) caster (superfine) sugar

2 cups (300g) self-raising (self-rising) flour

2 tablespoons thyme leaves

lemon icing
1 cup (160g) icing (confectioner's) sugar

1 tablespoon lemon juice

½ tablespoon boiling water

Preheat oven to 160°C (325°F). Grease a 2.5-litre-capacity Bundt tin. Place the oil, eggs, lemon rind, lemon juice, yoghurt and sugar in a large bowl and whisk to combine. Sift in the flour and whisk until smooth. Pour into the tin and bake for 50–55 minutes or until cooked when tested with a skewer. Allow to cool in the tin for 5 minutes.

To make the lemon icing, sift the sugar into a medium bowl. Add the lemon juice and water and mix to combine.

Carefully turn the cake out onto a cake stand or plate. While the cake is still hot, spoon over the lemon icing and sprinkle with the thyme leaves. Allow to set for 10 minutes before slicing to serve. Serves 10–12
Kay Pegg
I love this cake. It turns out moist and tasty every time. My tweaks - I use a loaf tin which takes longer to cook (approx 60 to 70 mins) and it's necessary to cover the top with foil to avoid it burning on the top in the last 15 mins.
donna hay team
Hi Louise, yes! You certainly can – The DH Team.
Emily Hong
Gina Rafferty - I've made this recipe gluten free countless times and it works every time. I just substituted normal self raising flour with 1.5 cups GF self raising flour with 0.5 cup almond meal. Or you can even do 1 cup GF self raising flour and 1 cup almond meal. I also bake the cake at 150C, fan bake. You want to check that the cake is baked until just done. It will be as moist. I find baking for 55min or longer for GF will make the cake dry and too crumbly. Good luck for your next try!
Louise Petter
Can you make this with light virgin olive oil ?
Carol Jones
E Adams - I don't know if you'll come back to this page, but the solution to your rubbery cake might lay in the first step of the method.
You may simply be over-beating the butter & sugar or over-mixing the flour. The trick is to tread lightly, whisk then stir, rather than a more heavy handed approach. Hope you see this!
Gerard Packham
Excellent recipe but a little sweet and not lemony enough (by a long shot). I've made a slight adjustment: Reduce sugar to about 320grams. Use the zest of FOUR lemons in the cake mix. And i just use the juice of one lemon for the cake mix because I can't be bothered measuring. Turns out perfect every time!
Wendy Street
This cake is so yummy. In the recipe book, the timings say 35 minutes versus 50- 55 minutes here which is much more accurate. It is always a winner and spraying the tin liberally with oil seems to do the trick to release it.
Paul Webster
Hi. For those people that are having problems getting the cake out of the tin I have found that if you spray the tin and then put a dusting of flour on top of the oil the cake comes out perfectly every time.
donna hay team
Hi Amber, oh that's a shame. Perhaps try leaving to cool a minute or two extra? We use spray oil on our bundt tins and spray liberally. Good luck! The dh team
gina rafferty
Hi, I've made this cake twice, once as per the recipe and turned out beautiful and the other using gluten free flour and turned out quite rubbery, do we need to add any baking powder to recipe using gluten free flour, has anyone else had success with gluten free. Thanks
Amber Dal Cin
Hi! I have loved this cake but had success with getting it out of the tin once. My tin is almost brand new and I've tried brushing with oil and spraying. The cake breaks in half with the top half stuck to the tin. Any idea? Besides that it is the best cake I've ever made.
donna hay team
Hi Harriet! Unfortunately this is a cake best made and baked on the day. The yoghurt and lemon react with raising agents to create the moist texture in the cake. Happy cooking!
Harriet Kaye
Could you make the cake batter the day in advance and keep in fridge until you are ready to bake it?
Jeff Davidson
The nicest cake I've ever tasted!
Tanya Fitzgerald
OMG! This cake is so good. It turned out super moist and fluffy. I didn't add the thyme to the recipe and I finished off the cake with lemon zest on the icing to give the cake a stronger lemon flavour.
E Adams
Help! I tried to make this cake but it turned out rubbery and tough. What have I done wrong? Would like to get this recipe right….
Prita Sharma
I use this recipe (minus the thyme leaves) for every time I have to make a cake. Its amazing, moist, spongey, tasty and beautiful. I cannot bake, I stuff up every baking recipe and the end product is horrific. But this cake always turns out! Love it.
Jonathan Choong
Looks to me like the recipe has forgotten to add the thyme leaves in to the batter? There's 2Tbsp in the cake recipe itself which doesn't seem to be used, I'm guessing that's supposed to be stirred in with the flour, and then there perhaps should be fresh thyme leaves as extra, for the icing. Or at least, that's how I interpret the cake, and boy did it taste good :D
donna hay team
Hi Johanna, we haven't tested the recipe using a gluten free substitute - however you could try following the recipe swapping regular self raising flour with a gluten free version. Let us know how it goes! The DH team
Johanna Anning
I love this recipe but would like to make it with self raising gluten free flour? Would you tell me how to adjust the measurements please?