veal, quince paste and
smoked almond sausage rolls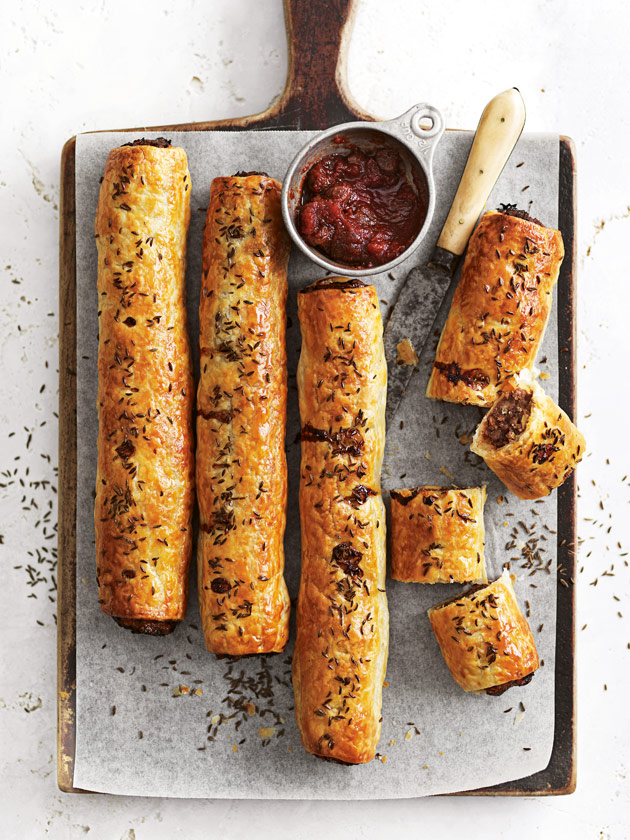 1 cup (70g) sourdough breadcrumbs

2 tablespoons milk

250g pork mince

250g veal mince

150g quince paste, finely chopped

½ cup (80g) natural smoked almonds, finely chopped

1 clove garlic, crushed

2 tablespoons finely chopped dill

1 teaspoon sea salt flakes

1 teaspoon cracked black pepper

2 sheets frozen puff pastry, thawed and halved

1 egg, lightly beaten

caraway seeds, for sprinkling

tomato relish, to serve

Preheat oven to 200°C (400°F). Place the breadcrumbs, milk, pork mince, veal mince, quince paste, almonds, garlic, dill, salt and pepper in a large bowl and mix well to combine. Divide the mixture into 4 even portions and roll into sausage shapes.
Place down the centre of each pastry half and brush the edges with the egg. Roll to enclose, ensuring the seam is underneath. Use a small sharp knife to make small cuts along each sausage roll. Brush with egg and sprinkle with caraway seeds. Place on a large lightly greased oven tray lined with non-stick baking paper and cook for 25 minutes or until golden and cooked through. Serve with relish. Serves 4–6.
There are no comments for this entry yet.