dukkah-roasted chicken
with couscous and tahini yoghurt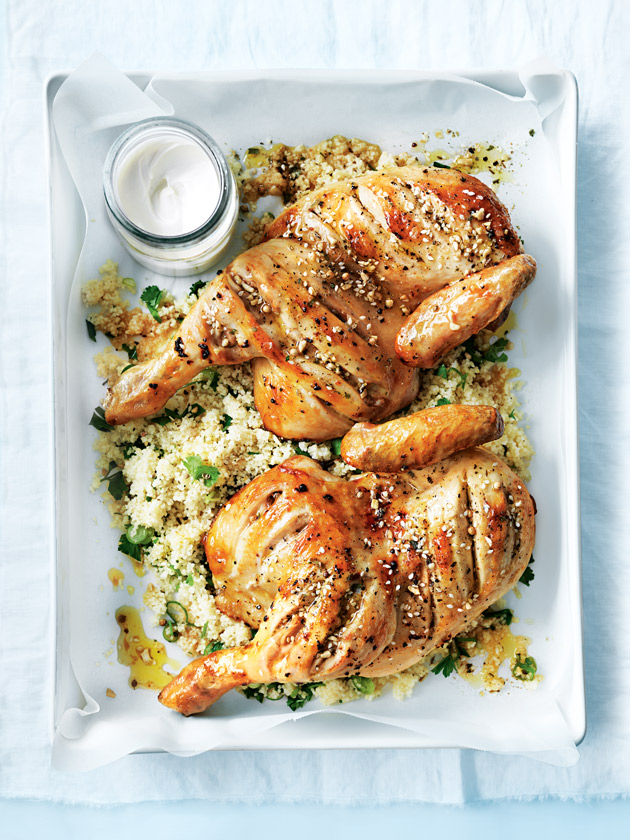 1 teaspoon finely grated lime rind

⅓ cup (80ml) lime juice

1 clove garlic, crushed

2 tablespoons store-bought dukkah+, plus extra, to serve

1 tablespoon extra virgin olive oil, plus extra, to serve

sea salt and cracked black pepper

1 x 1.6kg chicken

1 cup (200g) instant couscous, cooked

1 cup coriander (cilantro) leaves, chopped

1 cup flat-leaf parsley leaves, chopped

2 green onions (scallions), thinly sliced

1 tablespoon tahini paste

¼ cup (70g) plain Greek-style (thick) yoghurt

Preheat oven to 250°C (475°F).

Place the lime rind, ¼ cup (60ml) of the lime juice, garlic, dukkah, oil, salt and pepper in a bowl and mix to combine.

Using a sharp knife, cut the chicken in half and remove the back bone. Make 8 deep incisions in each chicken half.

Place the chicken, skin-side up, on a lightly oiled baking tray. Rub the marinade over the chicken and roast for 20 minutes or until the chicken is cooked through.

While the chicken is roasting, place the couscous, coriander, parsley and green onion in a bowl and toss to combine.

Mix to combine the tahini, yoghurt, remaining lime juice, salt and pepper.
Serve the chicken with the couscous and yoghurt, sprinkle with the extra dukkah and drizzle with extra oil to serve. Serves 4.

+ Dukkah is a Middle Eastern spice, herb and nut mix available from some supermarkets, delicatessens and spice stores.
Brooke Stuart
I find you need to grill the chicken for another few minutes then you get a nice brown, crunchy top.