broccolini, basil and kimchi pancakes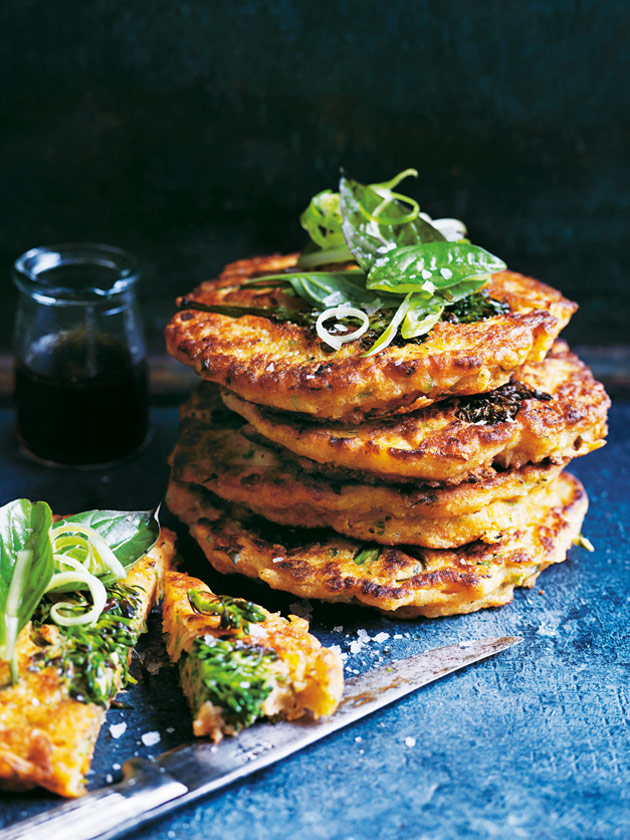 1 cup (180g) rice flour

1¼ cups (200g) wholemeal (whole-wheat) flour

½ teaspoon sea salt flakes, plus extra to serve

½ teaspoon cracked black pepper

1½ cups (375ml) water

1 egg

2 green onions (scallions), thinly sliced, plus extra to serve

1½ cups (300g) kimchi, roughly chopped

⅓ cup Thai basil leaves, finely chopped, plus extra leaves to serve

1 bunch broccolini, tops reserved, stems finely chopped

2 tablespoons light olive oil

dipping sauce
2 tablespoons tamari

2 teaspoons sesame oil

2 tablespoons mirin (Japanese rice wine)

2 tablespoons rice wine vinegar

To make the dipping sauce, place the tamari, sesame oil, mirin and vinegar in a small bowl and stir to combine. Set aside.

Place the flours, salt and pepper in a large bowl and whisk to combine. Place the water and egg in a separate bowl and whisk to combine.

Gradually whisk the egg mixture into the flour mixture until a smooth batter forms. Add the onion, kimchi, basil and broccolini stems and stir to combine. Set aside for 5 minutes.

Heat 2 teaspoons of the olive oil in a large frying pan over medium heat. Place 3 separate spoonfuls of broccolini tops in the frying pan and top each with 1⁄3 cup of the batter. Cook for 2 minutes each side or until golden and crisp.

Repeat 3 more times with the remaining oil, broccolini tops and batter to make 12 pancakes.

Top the pancakes with the dipping sauce, extra onion and extra basil, and sprinkle with salt to serve. Makes 12.

There are no comments for this entry yet.