roasted pumpkin, feta and nutmeg soup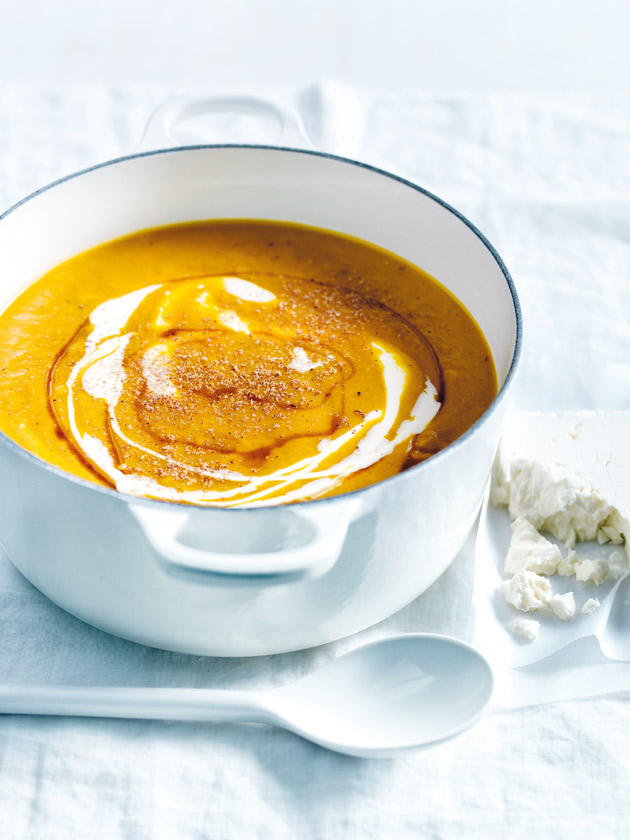 1.5kg Japanese pumpkin, peeled and thinly sliced
1 brown onion, thinly sliced
4 cloves garlic, unpeeled
¼ cup (60ml) agave syrup (nectar) or maple syrup, plus extra, for drizzling
¼ cup (60ml) extra virgin olive oil
sea salt and cracked black pepper
3½ cups (875ml) chicken stock
¼ teaspoon freshly ground nutmeg, plus extra, to serve
200g crumbled feta and thickened cream, to serve
Preheat oven to 220ºC (425ºF). Place the pumpkin, onion and garlic on a large lightly greased baking tray lined with non-stick baking paper, pour over the agave syrup and oil, sprinkle with salt and pepper and toss to combine. Roast for 25–30 minutes or until the pumpkin is tender and golden.

Squeeze the garlic from its skin and place in a medium saucepan with the pumpkin, onion, stock and nutmeg. Bring to the boil over medium heat, remove from the heat and blend until smooth. Drizzle with the cream and extra agave syrup, sprinkle with the extra nutmeg and top with the feta to serve. Serves 4–6.

There are no comments for this entry yet.