lamb, cumin and chilli parcels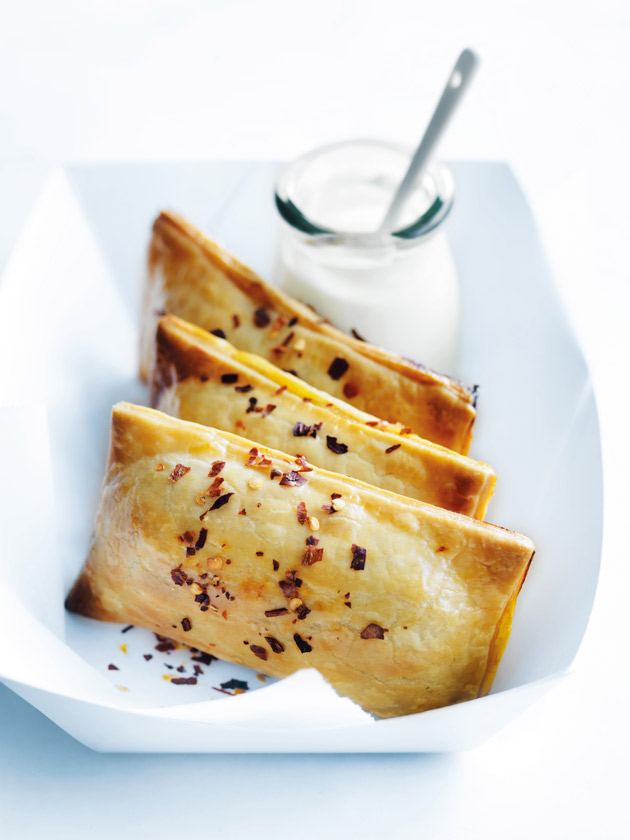 2 tablespoons extra virgin olive oil
1 small eggplant (200g), diced
1 small brown onion, chopped
3 cloves garlic, crushed
sea salt and cracked black pepper
2 teaspoons ground cumin
500g lamb mince
2 teaspoons dried chilli flakes
2 eggs
⅓ cup (55g) dried currants
1 tablespoon finely grated lemon rind
2 tablespoons lemon juice
3 sheets frozen shortcrust pastry, thawed
Greek-style (thick) yoghurt, to serve
Preheat oven to 180°C. Heat the oil in a large non-stick frying pan over high heat. Add the eggplant, onion, garlic, salt and pepper and cook for 6–7 minutes or until lightly golden. Add the cumin and cook for a further 1 minute or until fragrant.
Transfer to a large bowl and add the mince, half the chilli, 1 egg, the currants, rind and juice and stir to combine. Cut the pastry into 4 squares. Place ¼ cup of mince on one side of each square and flatten slightly.
Lightly whisk the remaining egg, brush the edges and fold to enclose. Press the edges to seal and place on large baking trays lined with non-stick baking paper. Brush with egg, sprinkle with chilli and bake for 25–30 minutes or until golden and cooked through. Serve with yoghurt. Makes 12.

There are no comments for this entry yet.