pork sausage roll bites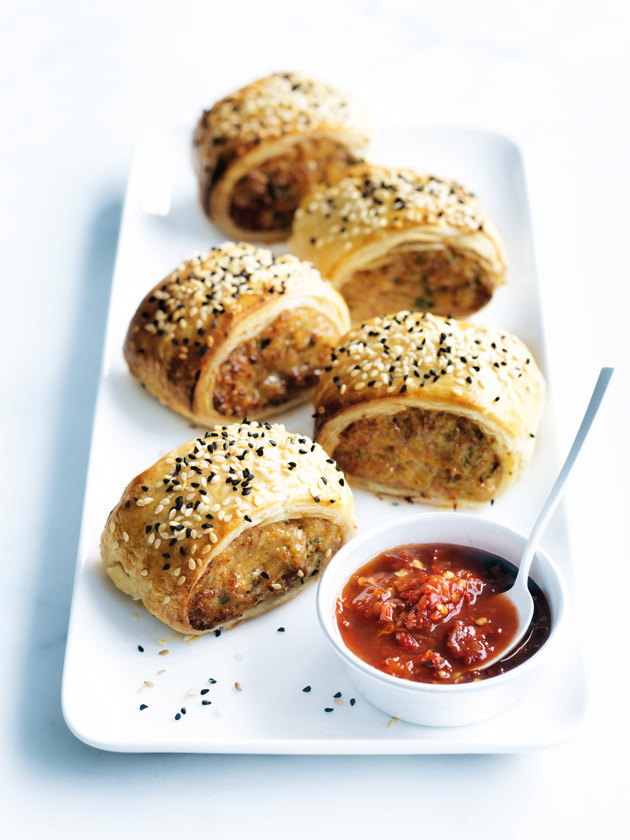 1 cup (70g) fresh breadcrumbs
2 tablespoons milk
500g pork mince
1 x 5cm piece ginger, peeled and finely grated
3 cloves garlic, crushed
2 tablespoons chilli jam
2 eggs
1 teaspoon sea salt flakes
½ cup coriander leaves, chopped
2 sheets frozen puff pastry, thawed, halved
2 teaspoons black and white sesame seeds
chilli sauce, to serve

Preheat oven to 200°C. Place the breadcrumbs and milk in a large bowl and stir to combine. Add the mince, ginger, garlic, chilli jam, 1 of the eggs, salt and coriander and stir until well combined.

Divide the mixture between the pastry sheets, placing it along one edge, and roll to enclose. Place the rolls, seam-side down, on large baking trays lined with non-stick baking paper. Lightly whisk the remaining egg, brush the sausage rolls and sprinkle with the sesame seeds. Cut each log into 6 pieces and bake for 18–20 minutes or until golden and cooked through. Serve with the chilli sauce. Makes 24.

Jessica Johnson
These sausages rolls are full of flavour. Love the ginger, they almost taste like a dumpling in pastry! I'm so happy to have a sausage roll that I can whip up quickly that's unique.