baked chilli tofu and kale noodles
with black sesame dressing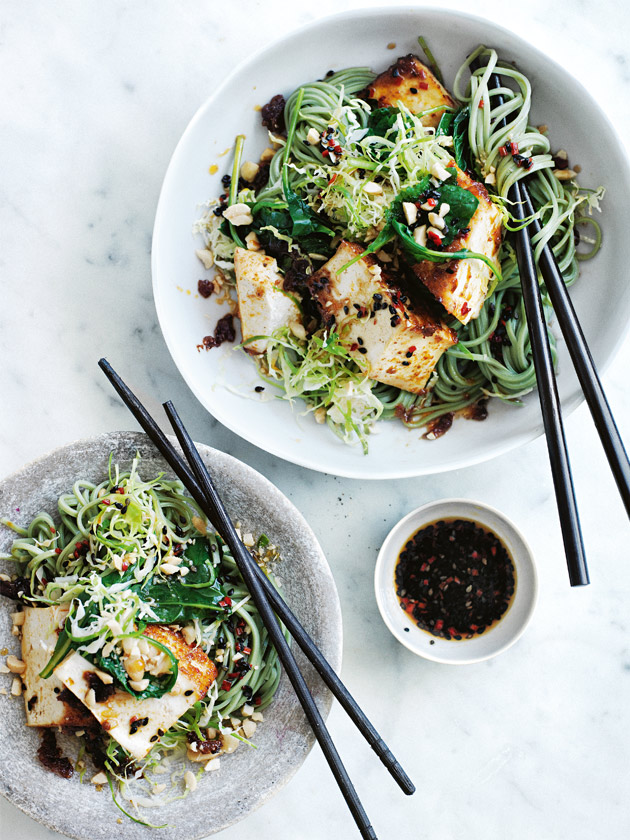 2 tablespoons chilli jam

1 tablespoon peanut oil

2 tablespoons freshly squeezed orange juice

1kg firm tofu, drained and sliced

200g green tea noodles+ or spinach noodles

300g baby kale leaves (or regular kale leaves, trimmed), blanched

8 brussels sprouts, shaved and blanched

2 green onions (scallions), thinly sliced

½ cup (70g) salted roasted peanuts, chopped

black sesame dressing
⅓ cup (80ml) brown rice vinegar

⅓ cup (80ml) soy sauce

2 tablespoons maple syrup

2 long red chillies, seeded and finely chopped

2 tablespoons black sesame seeds

To make the sesame dressing, place the vinegar, soy, maple syrup, chilli and sesame seeds in a medium bowl and mix to combine. Set aside.

Preheat oven to 200°C (400°F). Place the chilli jam, oil and orange juice in a small bowl and mix to combine.
Place the tofu on a tray lined with non-stick baking paper, spoon over the chilli mixture and bake for 20 minutes or until golden.

Cook the noodles in a large saucepan of boiling salted water for 3–4 minutes or until al dente. Drain and refresh under cold running water. Place the noodles, kale, brussels sprouts and green onion in a large bowl, pour over a little of the black sesame dressing and toss to combine.
Divide between small serving bowls and top with the chilli tofu, the remaining dressing and peanuts to serve. Serves 4.
+ Green tea noodles are available from some large supermarkets and Asian grocery stores.
There are no comments for this entry yet.
Tags:
brown rice
,
brussel sprouts
,
chilli
,
dinner
,
easy weeknights
,
fresh and light
,
kale
,
light meal
,
lunch
,
maple syrup
,
noodles
,
quick fix
,
sesame seeds
,
soy sauce
,
tofu
,