honey and vinegar salted pretzels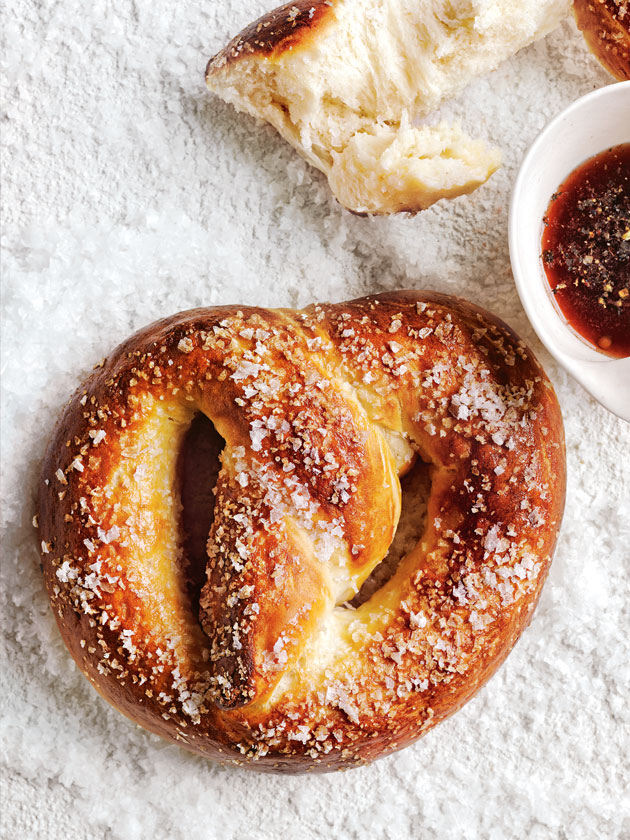 2 teaspoons dry yeast

2 teaspoons caster (superfine) sugar

⅓ cup (80ml) lukewarm milk

4 cups (640g) 00 bread flour

40g unsalted butter, softened

1 tablespoon white vinegar

1 cup (250ml) milk, extra

1½ tablespoons bicarbonate of (baking) soda

2 litres water

¾ cup (180ml) white vinegar, extra

2 tablespoons honey

1 egg, lightly beaten

2 tablespoon sea salt flakes

¼ cup (60ml) red wine vinegar

1 sprig thyme

Place the yeast, sugar and lukewarm milk in a small bowl and mix to combine. Set aside for 5–10 minutes or until foamy.

Place the flour, butter, white vinegar, yeast mixture and extra milk in the bowl of an electric mixer with the dough hook attached. Beat on low speed for 5 minutes or until smooth and elastic. Place the dough in a large lightly greased bowl, cover with a damp tea towel and set aside for 1 hour or until doubled in size.
Turn out the dough and divide into 6 pieces. Roll 1 piece into a 60cm-long rope. Twist into a pretzel shape and pinch to seal. Repeat with the remaining dough.

Preheat oven to 220°C (425°F). Place the bicarbonate of soda, water and extra white vinegar in a large deep-sided frying pan over medium heat. Bring to a simmer, add 1 tablespoon of the honey and stir to dissolve. Carefully lower the pretzels into the liquid, in batches, and cook for 1 minute each side. Remove with a slotted spoon and place on a large baking tray lined with non-stick baking paper. Repeat with the remaining pretzels.
Brush with the egg and sprinkle with salt. Cook in the oven for 15 minutes or until golden and cooked through.

While the pretzels are cooking, place the red wine vinegar, thyme and remaining honey in a small frying pan over high heat. Bring to the boil and cook for 1 minute. Serve the pretzels with the vinegar mixture. Makes 6.

There are no comments for this entry yet.