cheat's date and cashew crème brûlée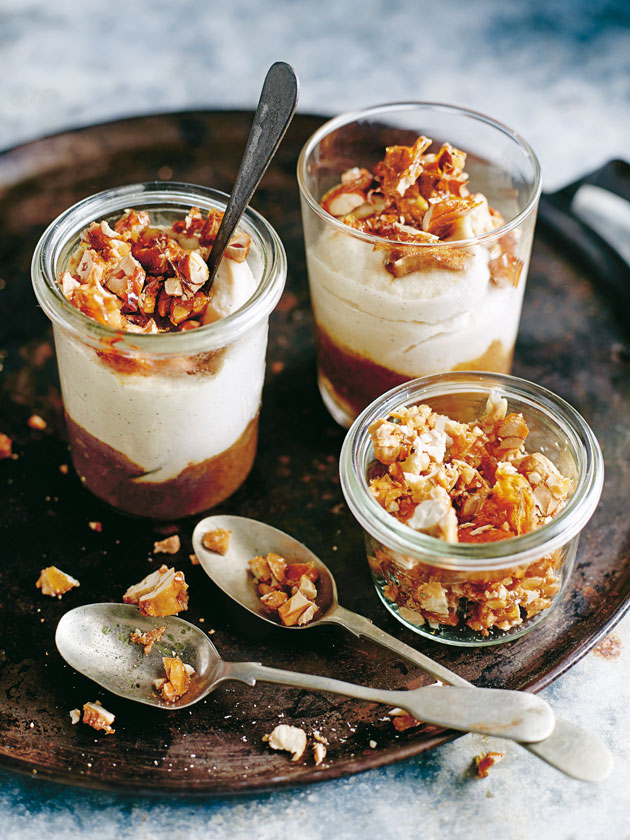 150g fresh dates, pitted and
roughly chopped

2 teaspoons vanilla bean paste

1½ cups (225g) raw cashews,
soaked overnight

⅓ cup (80ml) coconut cream

2 tablespoons rice malt syrup

cashew praline
½ cup (75g) raw cashews,
roughly chopped

2 tablespoons honey

Preheat the oven to 180°C (350°F). To make the cashew praline, place the cashew on a baking tray lined with non-stick baking paper. Drizzle with honey and toss to coat. Cook for 14 minutes or until honey is golden and bubbling. Remove from oven and allow
to cool completely.

While the praline is cooling, place the date in
a bowl and cover with boiling water. Set aside
for 10 minutes to soften. Drain, reserving
1 tablespoon of the soaking liquid.
Place the date, reserved soaking liquid and half the vanilla in a small food processor and process until smooth. Divide the mixture evenly between 4 x ¾-cup-capacity (180ml) jars.

Drain the soaked cashews and place in a small food processor. Add the coconut cream, rice malt syrup and remaining vanilla and process until smooth and creamy.
Divide evenly between the jars. Refrigerate until needed. Roughly chop the cashew praline and top each jar with praline shards to serve. Makes 4.

There are no comments for this entry yet.