quinoa and pea fritters
with tahini dressing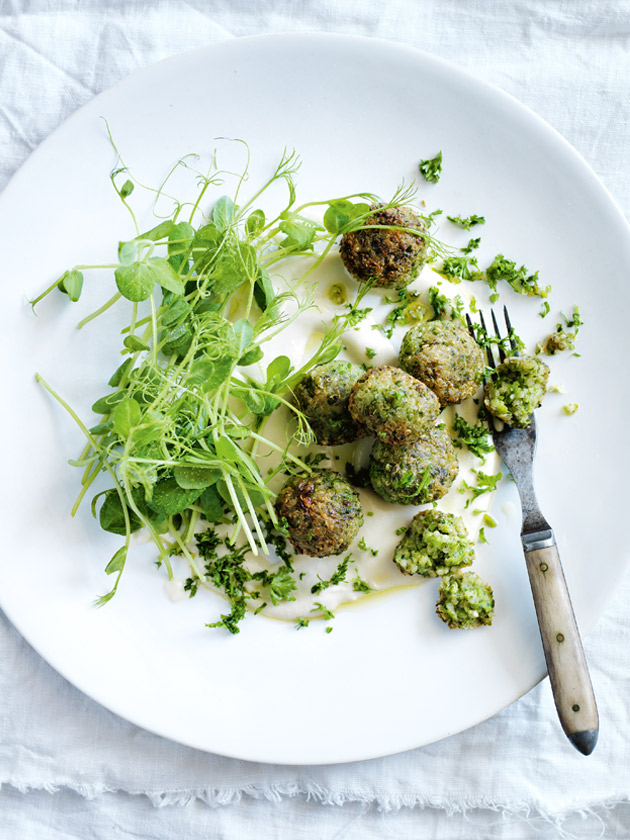 ⅓ cup (65g) white quinoa

⅔ cup (160ml) water

1 cup (120g) frozen peas, blanched and drained

¼ cup (45g) rice flour

1 tablespoon tahini paste

2 tablespoons curly parsley, finely chopped, plus extra, to serve

sea salt and cracked black pepper

¼ cup (60ml) extra virgin olive oil

snow pea (mange tout) tendrils (optional), to serve

tahini dressing
¼ cup (70g) tahini paste

2 tablespoons lemon juice

1 tablespoon water

1 tablespoon extra virgin olive oil

sea salt and cracked black pepper

Place the quinoa and water in a medium saucepan over high heat and bring to the boil. Cover with a tight-fitting lid, reduce the heat to low and cook for 10 minutes. Remove from the heat and allow to stand, covered, for 5 minutes. Remove the lid and set aside to cool completely.
While the quinoa is cooking, make the tahini dressing. Place the tahini, lemon juice, water, olive oil, salt and pepper in a bowl and whisk to combine. Set aside.
Place the peas, rice flour, half the quinoa, tahini, parsley, salt and pepper in a small food processor and process to a coarse paste. Transfer to a bowl, add the remaining quinoa and mix to combine. Using wet hands, shape tablespoons of the mixture into fritters.
Heat the oil in a large non-stick frying pan over medium heat. Cook the fritters in batches, turning, for 6 minutes or until golden and crisp. Serve the fritters with the tahini dressing, extra parsley and snow pea tendrils. Serves 4.

There are no comments for this entry yet.