flourless cacao cake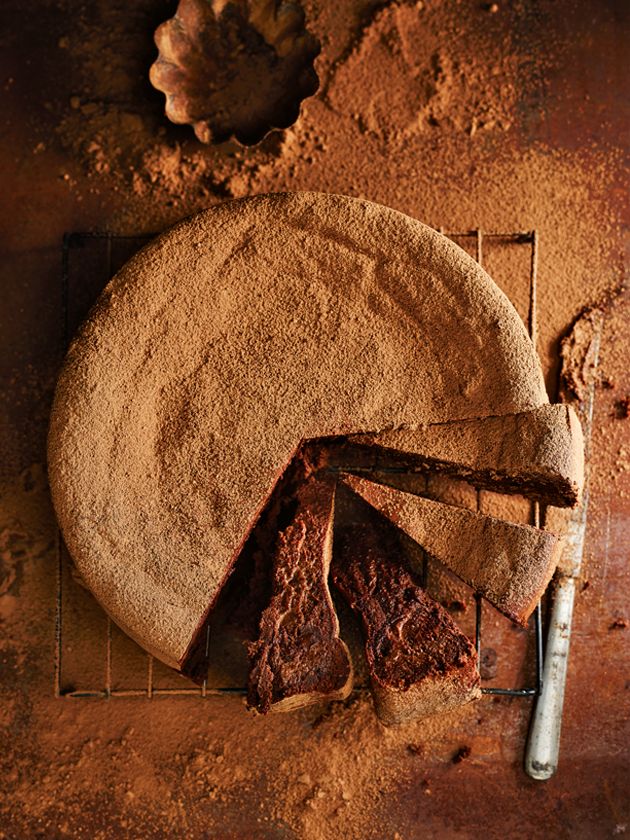 1 cup (250g) coconut oil, melted
1 cup (100g) raw cacao powder, plus extra, for dusting
½ cup (180g) rice malt syrup
6 eggs, separated
1¼ cups (220g) rapadura sugar
1 cup (120g) almond meal

Preheat oven to 180°C (350°F). Place the oil, cacao and rice malt syrup in a small saucepan over medium heat and cook, stirring, for 2–3 minutes or until smooth and melted. Set aside to cool.
Place the egg yolks and half the sugar in the bowl of an electric mixer and whisk for 2–3 minutes or until thick and pale. Add the cooled cacao mixture and gently fold to combine. Transfer to a large bowl, add the almond meal and mix to combine. Set aside.
Place the eggwhites in the clean bowl of an electric mixer and whisk until stiff peaks form. Gradually add the remaining sugar and whisk until thick and glossy. Add the eggwhite mixture to the cacao mixture and gently fold until just combined.
Pour into a lightly greased 22cm round springform tin lined with non-stick baking paper and bake for 25 minutes.
The cake will still have a slight wobble in the centre. Set aside to cool slightly then refrigerate for 2–3 hours or until chilled. Dust with the extra cacao to serve. Serves 6–8.
Loukia Papageorgiou
This cake is a great alternative for gluten free options, it's not very sugary either, but its super rich! I must have over-baked mine because it was crumbly. I think it needs something on the side to cut the richness personally, maybe yogurt?
Esther Espinoza
We made this yesterday and it was HEAVENLY!! We didn't have the sugar mentioned in the recipe so we used coconut sugar & it still tasted delicious! Thank you for a great recipe
Nadia Miodragovic
This has become my signature dish. It is the most requested dish for me to bring to events by my friends and family. For my friends and family I do 1/2 cup of cocoa and 1/2 cup organic cacao.
Virginia Loeza Castro
Baked it, loved it. Even my picky eaters at home enjoy it a lot! I used what I had at home so I substituted rapadura for coconut palm sugar, and rice syrup for maple syrup, and it turned out great. I'm craving it right now I will have to bake it again! Thank you for sharing.